OK! Cuts Cover Price

New $2.99 newsstand price 'proactive step' in down economy.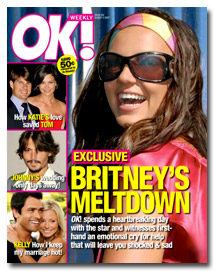 Following the ouster of publisher Tom Morrissy this fall, OK! magazine has slashed its cover price 50 cents from $3.49 to $2.99. The price change is effective with the magazine's year-end "A-list" double issue.
OK! says the decision to lower the cover price was a "proactive step" in response to the down economy. "We realize Americans feel distressed and worried and they're looking for a much needed escape," recently appointed OK! general manager Kent Brownridge said in a statement. "We hope that by making our magazine cost less they can experience the fun and pleasure of the celebrity entertainment" in the magazine.
The cover price change slots OK! against fellow celebrity titles In Touch and Life & Style, which also have a $2.99 newsstand price. Star magazine and Us Weekly carry a $3.99 cover price.
U.K. publisher Northern & Shell launched the U.S. version of OK! three years ago. Since then, the publisher is said to have spent roughly $100 million on the launch.
Through the first half of 2008, OK! saw single copy sales increase 3.7 percent to 500,520, according to ABC's FAS-FAX report. Total paid and verified circulation was up 11.8 percent to 905,015.
Meanwhile, single copy sales plummeted at In Touch (-28.7 percent), Life & Style (-30.2), and Us Weekly (-10.5) during the period. Star's sales were down 3.4 percent.
OK!'s ad pages soared 34.4 percent through the first nine months, according to Publishers Information Bureau figures.
Meet the Author
---