November Cover Model: The Turkey

Taste bud-testing holiday birds grace cover, after cover, after cover.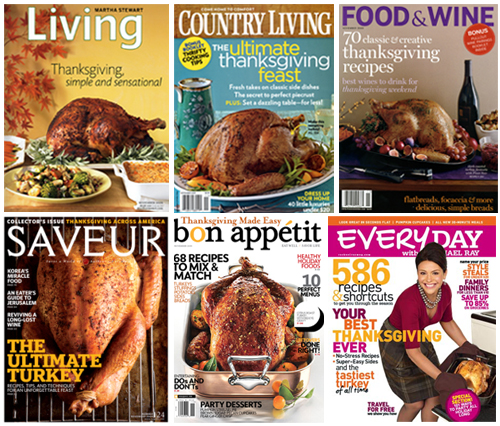 It's that time of year again. That's right—turkey time.
I sat down at my desk this afternoon and began opening the stacks of magazines that are delivered here to the FOLIO: office daily. First on the pile was Condé Nast's Bon Appetit, with a delicious-looking turkey resting gently in a roasting pan on the cover. Next came the herb-crusted masterpiece on the cover of American Express Publishing's Food & Wine. Then I unwrapped the new issue of Martha Stewart Living, with its "simple and sensational" bird with glazed carrots and roasted vegetables, accompanied by a sweet potato casserole.
OK, I can't go on. I'm starting to salivate.
Newsstands this time every year are overflowing with magazine covers featuring this succulent bird. But the cover that takes the cake (and the cranberry sauce, and the stuffing) this year is Hearst's Food Network Magazine. The November issue features what the publisher says is the "first" triple cover in the U.S. (go on, share my hunger pangs—see the covers below). The first cover features the turkey dinner while cover two shows side dishes and the third follows up with dessert. The entire cover package was sponsored by Cargill's Truvia, a natural sweetener.
If that wasn't already too much, the issue has nearly 140 recipes for creating more than 288,000 variations of the culinary wonder known as Thanksgiving dinner.
Have these covers triggered your taste buds? Not to worry. Turkey day is only a little over a month away.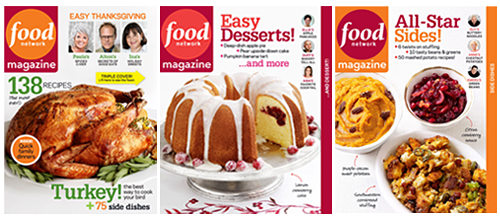 Meet the Author
---