Non-Photo Finishes

Photos are always preferable to illustrations, except when they aren't.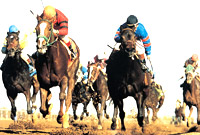 All things being equal, most editors opt for a photo instead of an illustration when designing a cover or layout. "If the story is about a noun-a person, place or thing-you should take its picture," says magazine designer (and longtime colleague) Greg Paul. "If it's a noun that will hold still in good lighting, take a picture."
Photos are not always possible, however. Then illustration becomes the graphic solution. All things being unequal, you probably need an illustration when:
1. The subject is impossible to get.
You can't get pictures of someone who won't cooperate or who hasn't been seen in public for the usual paparazzi assortment. Likewise, you can't shoot photos in a courtroom or in restricted security areas. When this happens, enlist an artist to depict your subjects.
2. The photos are really bad.
When a photographer botches a shoot, or if the only photos available are unusable, turn them over to an artist to use as scrap for realistic illustrations.
3. The story is about the long lost past.
You can't get photos of a noun before 1850 or thereabouts, when photography was in its infancy; or if you want to recreate historical or Biblical figures.
4. The story is about the short uncertain future.
To shape the future visually, you need to assign an illustrator who can not only see the road ahead, but can also peer around corners.
5. The topic is emotional.
Can you take a picture of anger or of joy without it looking staged? More often than not, when you set up a conceptual photo, it looks pretentious. When you see it you are aware that the person is acting. Call in an illustrator.
6. The story is conceptual.
When you want to make an editorial statement, say something negative about a topic or a subject (who is not likely to pose for the story), you need an illustrator.
7. The idea calls for an inside view.
In photography there is only one style-and that is realism. What you see is what you get, and that is usually an exterior view. When you need to show the inside of an engine or the human pulmonary system, you need to use illustrations.
8. The story is for laughs.
Humor is hard to do with photographs. When acted out before a camera, it often comes off as staged, obvious and unrealistic. In illustration there are options-you can use a humorous style, or even caricature, which immediately tells the viewer that you are taking a light approach. This is creative license for illustrators only.
9. The story is about stereotypes.
Illustration is effective when you are doing a story about stereotypes, when you need so-called "everyman" or "everywoman" visuals. For a story on baseball umpires, a photo of an ump at a ballgame would suggest this is about a specific umpire, not the genre. Instead, an illustration of an umpire with everyone throwing stuff at him taps into the broader them of the story: Who is this person and why does everyone hate him?
10. The story calls for a photo illustration.
Bad photos can be rescued and resuscitated using Photoshop, Illustrator and other touch-up solutions. There is the risk of reader confusion here, however. In 2005, for instance, Star ran a faked photo of Brad Pitt and Angelina Jolie on a beach with the cover blurb "CAUGHT TOGETHER!" when in fact the image was pixeled together using a shot of Pitt at a Caribbean beach while Jolie's was snapped the previous year on a beach in Virginia. (The editors acknowledged that this was a composite photo in small print on page 46.)
Which brings us to the chicken/egg question-when Photoshop intrudes, is it a photo or an illustration? Just as an illustrator uses pencil, oils or watercolors as creative tools, here the illustrator is using photographically generated pixels to depict a scene. The result is illustration. Photo illustrations must be labeled as such-or they are lies.
John Brady is a partner at Brady & Paul Communications, a publishing consultancy in New York, Fort Lauderdale and Newburyport that specializes in redesigns, and conducts workshops for professionals. For information on his consulting services, and to order his Interviewer's Handbook: A Guerrilla Guide for Reporters and Writers, his Web site is www.johnbrady.info.
Meet the Author
---