UPDATE: Newsweek Sold to Sidney Harman

Seller to retain pension assets and certain pre-sale employee obligations.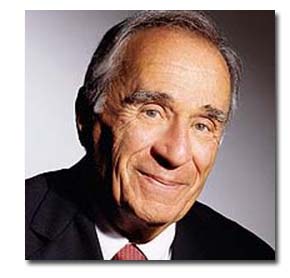 SEE ALSO: Maintaining Status Quo Will Spell Disaster
The deal is done and the announcement has been made: The Washington Post Co. has wrapped up its auction of Newsweek, selling the ailing newsweekly to audio magnate Sidney Harman. The deal was announced this afternoon.
In announcing the sale, Washington Post Co. chairman Donald E. Graham says: "In seeking a buyer for Newsweek, we wanted someone who feels as strongly as we do about the importance of quality journalism. We found that person in Sidney Harman. He has pledged not only to continue to produce a lively, compelling and first-rate news magazine, but also an equally dynamic Newsweek.com—and he intends to keep a majority of Newsweek's very talented staff."
Harman [pictured], the 91-year-old founder and chairman emeritus of Harman International, was said last week to be the frontrunner among the bidders. One of the reasons he was the favorite was because he reportedly plans to keep 250 of Newsweek's current staff of 325. The Washington Post Co. says it will retain the pension assets and liabilities and certain employee obligations arising prior to the sale.
Financial terms of the deal were not disclosed. "The resulting gain or loss at closing is not expected to be material to the financial position of The Washington Post Company," the announcement says.
One source pegged the deal as similar to the terms of the BusinessWeek acquisition by Bloomberg, only with "about $20 million more in liabilities." Losses at Newsweek could approach $70 million this year, reports say.
Newsweek.com reports that the magazine's editor, Jon Meacham, will be leaving the magazine after the sale process is complete. CEO Tom Ascheim is expected to remain in his role under Harman's ownership.
The Washington Post Co. was advised in the deal by Allen & Co. Guggenheim Securities LLC represented Harman.
The Washington Post Co. put the Newsweek up for sale in May. Bids were due at 5 p.m. on July 1. At the time, conservative-leaning political magazine brand Newsmax Media and a group backed by private equity manager Thane Ritchie said they weren't proceeding with the auction process.
Last week, it was reported that the Washington Post Co. wasn't interested in selling to bidder Avenue Capital Group over concerns with the hedge fund's proposal to partner with National Enquirer publisher American Media Inc. to handle some of the behind-the-scenes operations at Newsweek. It is not immediately clear if investment firm OpenGate Capital, which was rumored to be among those interested in acquiring Newsweek, ever placed a bid.
Fred Drasner , a former partner of Mort Zuckerman who helped negotiate his deals for the Daily News, Atlantic Monthly and Fast Company, also placed a bid for Newsweek. He did not immediately return a FOLIO: e-mail seeking comment. UPDATE: Click here for Drasner's response.
Meet the Author
---