Newsstand Sales May Start Trending Up

While declines expected with upcoming Fas-Fax, late numbers signal turn-around.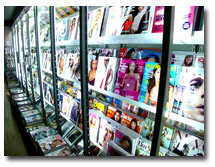 Significant declines in newsstand sales are expected across the board for publishers in ABC's upcoming Monday release of its Fas-Fax report. What may go overlooked, however, is a jump in unit sales and revenue late in the first half that may be signaling a shift in momentum as we enter the second half of the year.
Overall, many of the top-selling publishers will post declines in newsstand sales for the first half of 2009. But according to MagNet, a data company that tracks store-level magazine sales, May and June were up 2.6 percent in units and 2.1 percent in revenue compared to the first four months of the year. In other words, the sales decline appears to be slowing down.
"These numbers indicate to me that May and June may have changed the momentum on the newsstand for magazine publishers," Ken Godshall, MPA's executive vice president of consumer marketing, told FOLIO:. "That's a change in direction from what we've seen in the last couple ABC periods and may be a sign of hope for the future."
May and June's numbers, as modest as they are, halt a significant slide over the last year. "The sales slide began in the first half of last year and accelerated like a souped-up Maserati in the second half," wrote Baird Davis in his analysis of second-half 2008 newsstand sales in the April issue of FOLIO: sister publication Audience Development. "For the year, unit sales declined a record 10.1 percent and revenue was down 2.1 percent."
If you add July—which included Michael Jackson special commemorative issues—to the May-June period, the numbers bump up even more to 3.3 percent in units and 3.6 percent in revenue compared to the first four months. According to AdAge, the special issues accounted for $55 million in extra newsstand revenue.
Checking the MagNet numbers again reveals that the same May-July period in 2008 had a 4.4 percent drop in units and 3.6 drop in dollars compared to the first four months of that year.
So, as the supply chain emerges from the rubble of this year's newsstand collapse it appears sales are on an upward trend. "The May-June period was down in 2008 versus the first four months, so last year we were losing traction and this year we're gaining traction," said Godshall.
Meet the Author
---