Newspaper Executives Launch Ad Campaign to Combat 'No Future' Notion

Publisher of Parade, others roll out 'power of print' blitz.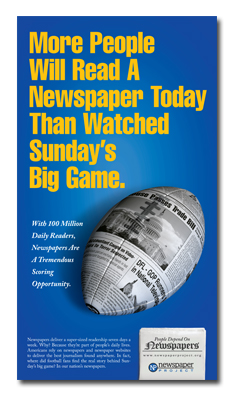 The downward spiral of newspapers has been well-documented. But a small group of newspaper executives have formed a grassroots organization to promote the power of print—and reject the notion that newspapers are dead.
Their official mission statement? To "support a constructive exchange of information and ideas" about the future of newspapers. The Newspaper Project includes print ads, online ads and a Web site, newspaperproject.org, aimed largely at rejecting "the notion that newspapers—and the valuable content that newspaper journalists provide—have no future," according to  Donna Barrett, president of the Southern Newspaper Publishers Association and a founding member of the Newspaper Project.
Print ads were launched today in Advertising Age and more than 300 U.S. newspapers, including the New York Times and the Washington Post.
Other members of the group include Randy Siegel, president and publisher of Parade; Brian Tierney, CEO and publisher of Philadelphia Media Holdings, which publishes the Philadelphia Inquirer; and Jay Smith, former president of Cox Newspapers.
In 2007, advertising revenue for newspapers fell 9.4 percent—the worst drop in more than 50 years—according to the Newspaper Association of America.  Revenue plunged 18.11 percent in the third quarter of 2008—the worst decline by far in the nearly four decades NAA has tracked quarterly performance.
Meet the Author
---