New York Times Co. Sells About.com to IAC for $300 Million

Brand will be paired with Ask.com business.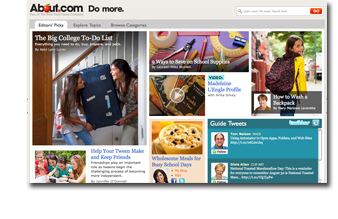 The New York Times Company has agreed to sell the About Group to IAC. Included in the $300 million all-cash deal are About.com, ConsumerSearch.com and CalorieCount.com.
The New York Times Company bought About.com from Primedia in 2005 for $410 million. At the time, the deal was intended to scale the Web presence of the company's media properties by adding About.com's 22 million monthly users to NYT Co.'s 13 million, and introduce increased display and cost-per-click advertising opportunities.  
The New York Times Company recorded an operating loss of $142 million for the second quarter this year, compared to an operating profit of $31.5 million during the same period last year. There was a $195 million non-cash goodwill write-down included in the second quarter for the About Group.
At the half, the About Group was down 16 percent in revenues to $49 million due to decreases in both display and cost-per-click advertising.
The plan is to pair About.com with Ask.com, and About will be housed in IAC's Search and Applications segment, which includes Ask.com, Dictionary.com, Mindspark, nRelate (which IAC bought in July) and Pronto.
"This is a rare merger with true bilateral synergies," says IAC Search and Applications CEO Joey Levin in a statement. "On the one hand, the Ask.com search and content business has generated exceptional revenue and profit growth by marketing and distributing a quality consumer search and Q&A experience, and About provides Ask with a tremendous amount of quality content to further enhance that experience and the credibility of the Ask brand. On the other hand, About.com has created, and today continues to grow, a library of content which consumers love across a vast array of categories, and we can now market and distribute that content and the About brand through Ask and significantly  increase traffic and profitability at About."
About CEO Darline Jean, who was promoted to the top spot in July 2011, will report to Ask.com CEO Doug Leeds. According to IAC, 100 million unique users visit About.com each month.
Meet the Author
---