New York Magazine's 'Early & Often' Signals Jump Into Race For Political Coverage

Opportunity to launch channel identified this summer.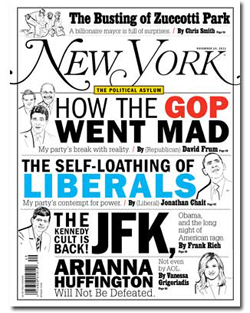 New York magazine is expanding its political content offerings with a new section of its Web site called "Early & Often." The opportunity to launch the new content section, which will be available through nymag.com/politics, was identified this summer. Record numbers of Web visitors came to read several politically focused stories last month, further validating this opportunity for expansion.
"NYMag.com saw its biggest day of Web traffic for the year on November 21, with nearly 800,000 daily unique visitors, thanks to several strong political stories," a news release from the magazine says. "Thanks in part to its strong political content, NYMag.com has seen record traffic for September-November, with a monthly average of 10.7 million monthly unique visitors, up 20 percent from the same period in 2010 [according to OmnitureSite Catalyst]."
As the 2012 U.S. presidential election draws closer, the publication is hoping to increase the number of Web site visitors through its political coverage.
"Politics has become more and more part of the mix on the Web site and it's been very successful for us traffic wise," says Ben Williams, online editorial director for New York. "We felt that we really had so many strong writers and we were doing a great deal of political coverage, that it was time to break it out into its own channel. The big election year coming up makes it the perfect moment to do it and it makes NYMag.com a place where people can come get coverage of the election."
In addition to original content and reporting on the national and New York area political scenes, the publication will also be incorporating information from authoritative sources that offer an expanded view of political happenings. Right now, for example, users can click on actual documents from the recent court case involving the U.S. Securities and Exchange Commission versus Citigroup.
"There are national ramifications to our coverage," says Williams. "About 70 percent of our audience is actually outside of New York so we do have a platform to talk about national politics as well as local, which we're doing both of."
Williams says that local New York City issues, like the Occupy Wall Street movement, are also topics of national and international interest, something that has helped the publication bring in audiences outside of New York.
As part of the new launch, New York magazine will join The Economist Group's Ideas People Media Channel. According to the Web site of The Economist Group, the Ideas People Channel is "a fully transparent vertical ad network of 50 plus sites inspired by insight into the mindset of The Economist audience." The site adds that the "Ideas People Channel is used by advertisers to amplify their brand campaigns."
The Economist Group approached New York magazine about joining the ad network and Williams says that the partnership will help bring politically focused advertisers to the site. A spokesperson for New York magazine says that there is a simple revenue share agreement for any advertising sold on "Early & Often" via The Economist Group, though more specific details could not be provided.
"There are a lot of people that are real politics junkies," says Williams. "Now with this tab they can get the politics and nothing else."
Meet the Author
---