New York Mag to Cut Two Issues This Summer

Spokesperson: 'These two weeks are simply not popular with advertisers.'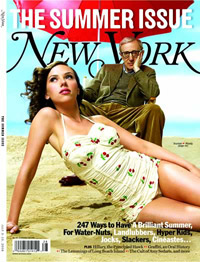 New York magazine is cutting two issues from its publishing schedule.
The weekly title is anticipating that advertisers, who traditionally pull back during the summer months, will pull back more so in a recession.
The issues dated June 22 and August 17 will not be published.
"We've looked, and found that these are two weeks simply not popular with advertisers," said Serena Torrey, New York Media's executive director of business development and corporate communications. "It's a hard decision, but is something we decided to do to ensure the company's future."
New York also cut an issue in January. It will now publish 43 issues this year.
According to the Publishers Information Bureau, ad pages for New York plummeted nearly 40 percent during the first quarter to 429.39 (or 280 pages less than it sold during the first three months of 2008). Estimated revenue was down 40 percent, or roughly $20 million.
Subscribers will receive two additional issues at the end of their current subscriptions to make up for the lost issues.
Torrey said the publisher may bring back the issues next year. "We will reassess in 2010."
Meet the Author
---