New York Magazine Commissions 25 Covers, Picks Two

Design director: 'We wimped out.'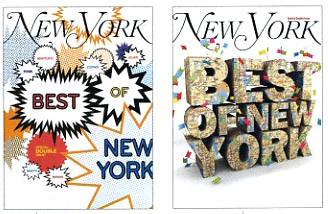 When it comes to magazine cover design, having too many ideas can be just as hard as not having enough.
New York magazine commissioned five designers, ad agencies and design firms —including former Kate Spade design director Alan Dye and ad agency designer Carin Goldberg, who's worked with Nike, Nokia, ESPN and the late author Kurt Vonnegut—for its annual Best of New York issue, on newsstands this week. Design director Chris Dixon gave each two weeks to produce a cover. The magazine received 25, he says, but failed to pick one winner—opting, instead, to go with separate covers for the newsstand and subscriber editions. "We wimped out," Dixon said in the magazine.
For Dixon, the contest was "a good way to get a great cover and also work with the New York design/creative community closely—and it was the 'Best of' issue!" he wrote in an email to FOLIO:. "We paid a small honorarium to the contributors—nothing even close to commercial rates—so we are grateful to them for their great work."
Click here to see a slideshow of the winners and runners up.
Meet the Author
---