New Wine Spectator App Offers Enhanced Data Search Features

A $2.99 monthly subscription allows access to over 270,000 searchable reviews.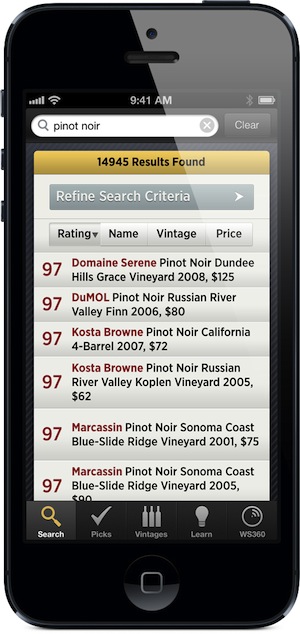 Wine Spectator recently launched its newest app WineRatings+. The Apple-exclusive product is a free download from iTunes and is intended to replace its predecessor VintageChart+. For an additional $2.99 a month, subscribers will have access to Wine Spectator's new database that accesses more than 270,000 expert wine reviews.

Wine Spectator uses a freemium approach for offering digital content, both online and within the app. That is, both the website and app offer free articles and educational materials, however access to the publication's review-rich database requires a paid subscription.
The magazine has been cataloguing its wine reviews since the late 80s. And executive editor Tom Matthews says that, "We have gone through a number of software programs as the number of wine reviews have grown and our needs have become more complex." There is little argument that managing 270,000 reviews is a complex task, yet the magazine seemed to get it right with its newest product.
"We have been so pleased with the results that we are now in the process of integrating that back into the rest of the system, including the website and our tasting department," Matthews says.
Simplicity is the key to the WineRatings+ database. Matthews suggests that users will find the new app extremely easy to navigate and states that keystrokes will be dramatically reduced when searching for the right wine. Wine Spectator sees its wine reviews as an integral component of its brand identity, and Matthews indicates that building out this database was a crucial next step for the magazine.
"We understand that this data is our strong suit in terms of attracting subscribers, our goal is to make it as robust and flexible as we can to continue to drive our business as new platforms evolve," Matthews says.  
Wine Spectator's previous app, VintageChart+ was the top downloaded wine app on iTunes, and generated over a half million downloads worldwide. So far the company is pleased with the number of previous app users who have updated to the new app. Additionally, Matthews says that new subscriptions are "on target" with their preliminary projections.
The WineRatings+ app also shows to have potential to grow the magazine's audience, beyond its current boundaries. Matthew's states that 33 percent of its app audience is international, opposed to only 10 percent of its print audience, and 20 percent of its online audience.
Social media features built into the app could further bolster audience development. Matthews suggest that given the new technical affordances of iOS 6, Apple was a big proponent for adding social features to WineRatings+. Users can share not only free content from within the app, but also database reviews. "We are giving away the store," says Matthews, adding that, "giving people a sneak peak is a motive to become a subscriber."
For now the app is only available through iTunes. Matthews suggests that being Apple-exclusive has a lot to do with the ease and stability of building apps for an Apple platform. For magazine subscribers without an iPhone or iPod that wish to access the new database, that function will soon be available through an online or mobile Web browser.
Meet the Author
---