New American Luxury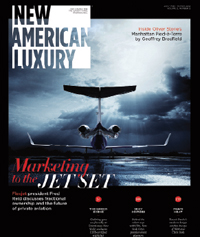 Ozzie Winner: Best Design, New Magazine, B-to-B
The philosophy behind the New American Luxury design is simple, says creative director Karin Bolliger: "It should look, obviously, luxurious."
The design emphasizes modernity and cleanliness, favoring traditional black-and-white color schemes and uncomplicated fonts. For inspiration, Bolliger and her designer, Aaron G. Lewis, look to their favorite high-end consumer publications.
"What we try to get from the best consumer magazines is how they sell stories," she says, "how they make a story reader friendly."
While the team works to put out a sophisticated-looking book fitting of their title, they're constrained by the realities of working at a smaller-scale b-to-b publication. Modeling themselves after Icon or Worth isn't always feasible.
"We try to draw on what they're really good at in selling a story, though we can't always use that 100 percent," she says. "In trade magazines, the content is so different and we don't have access to the same resources."
For the January/February/March 2012 "Jet Set" issue submitted for the Ozzie award, Bolliger relied on the featured company for photos, including the runway shot of a private jet on the cover.
Bolliger and her team are overcoming the budget hurdles though. "We're still playing around with it," she says. "We have the possibility of showing a lot more."
Meet the Author
---