National Magazine Awards: A Celebration of a Changing Landscape

Traditional publishers dominate in digital award categories.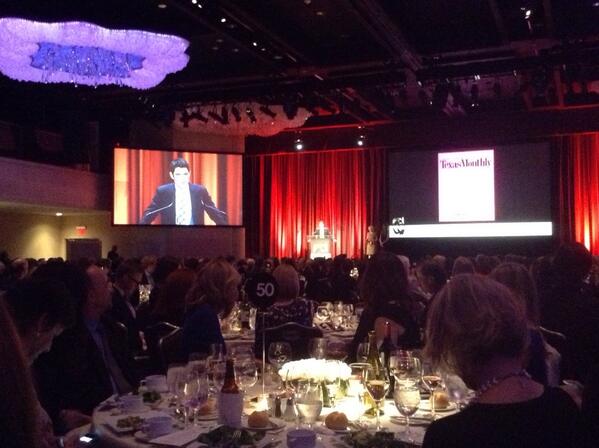 New York—Last night 600 magazine editors and publishers gathered to celebrate the best of the best in print and online content at the 2013 National Magazine Awards. The American Society of Magazine Editors and The Association of Magazine Media hosted the 48th annual award gala, and this year they mixed things up by converging digital and print mediums into one ceremony. For the first time publications like Pitchfork and Martha Stewart Living could compete head-to-head. Still, the night belonged to the traditional print-based companies.
National Geographic was the big winner of the night by grabbing four "Ellies," two of which were in the digital space-Best Tablet Magazine and Best Multimedia Content. Another seasoned magazine, The Atlantic, took home two awards, including Best Website.
Regional print titles also had an impressive showing. Texas Monthly earned two Ellies – Feature Writing Incorporating Profile Writing and Public Interest. And of course New York was arguably the most prestigious winner by taking home Magazine of the Year. New York also won for Best Magazine Section and for Best Cover, which featured a post-Hurricane Sandy blacked out New York City skyline.
Pitchfork and Slate emerged as the top pure-play publishers. The alternative music site, Pitchfork won for General Excellence in Digital Media. And Slate beat out traditional publications like Elle, The Nation and New York for best Columns and Commentary.
Also notable was Vogue, winning Best Service and Fashion Magazine. This was Vogue's first Ellie, and editor-in-chief Anna Wintour jokingly stated that the trick to winning was to "wait 25 years."
There was a narrative of strength and resiliency throughout the night. ASME president and SELF editor-in-chief Lucy Danzinger opened by saying "magazines are stronger than ever." And the evening's MC and Today correspondent, Willie Geist refuted the notion that print is dead when he said, "this doesn't look like a funeral to me."
Geist's comment seemed to reverberate throughout the room. That is, there was a genuine excitement in the air. Attendees were speaking with passion about both digital and print content. And when Mother Jones won Best Video for its Mitt Romney 47% video the room erupted, indicating that journalistic content in the digital space belongs on the same stage as its print cousin.
For a complete list of winners and nominees please visit ASME
Meet the Author
---