National Geographic Captures Webby Awards

After three Ellies, magazine honored for 'best Web site.'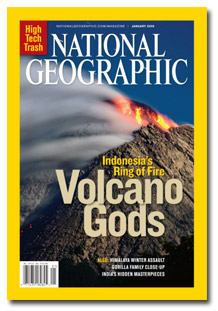 On the heels of a surprising victory at the National Magazine Awards last week, National Geographic won four Webby Awards for its Web site.
National Geographic won the Webby for best magazine site of the year for ngm.com, as well as the "people's voice" award for best Web site.
The magazine also won for best use of photography for its Your Shot project and best home page.
Winners in the 12th annual competition will be honored on June 10 at a ceremony in New York.
The New York Times online unit won eight Webbys; the Onion won seven. Conde Net won four, including best copywriting (Wired.com), fashion (Style.com) and lifestyle (Epicurious.com).
Last week, National Geographic, the 120-year-old Washington, D.C.-based title, won three Ellies, including one for general excellence for magazines with a circulation of more than two million. The New Yorker and New York magazine, which had a combined 21 nominations, won just two. National Geographic editor Chris Johns, while accepting the general excellence award, said: "I'm stunned, but pleasantly stunned."
A full list of Webby Award winners can be found here.
Meet the Author
---