The Nation and National Review Partner for Ad Sales

The 'Purple Network' combines readership numbers for more competitive buys.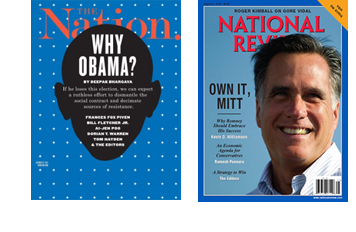 If you forget politics for a second, the readership of The Nation and National Review are actually quite similar—"opinion leaders" inside and outside the beltway. That similarity drove the two magazines together to create the "Purple Network"—a combined sales effort that marries the red of the National Review and the blue of The Nation, as well as their rate bases and a steeply discounted ad buy.
Both magazines have always targeted corporate marketers and have always come up short because of a brand's nervousness about being associated with distinct political views. "When we sell this audience to people separately, we run into the same hurdle," says Scott Budd, executive publisher of National Review. "They love who these people are, but they can't put a publicly traded company into such partisan magazines."
By joining forces, the thinking goes, marketers can buy both magazines, reach the desired demographics and sufficiently neutralize any political backlash. "Political magazines are always up against this with advertisers. This goes back a hundred years," adds Teresa Stack, president of The Nation. "They're skittish about advertising on one side or the other, and this mitigates it because they're talking to both sides."
Combined, the two magazines offer a rate base of 300,000 and a 50 percent discount off the standard 4-color page rate.
The combo deal is also squarely aimed at both inside-the-beltway competitors such as Politico, Roll Call and National Journal and the larger national titles that swing into political topics, like The Atlantic.
"We're positioning ourselves as both a beltway buy and on a national level competing with the more cultural titles," says Stack.
The program is just underway and focusing on the 2013 buying cycle, but Stack and Budd say early interest is there. Initial sales efforts will go after the beltway buys, and then work their way out to the bigger national deals.
From there, Budd says that they may try similar deals on the digital side and even move into co-produced events in the D.C. market.
Meet the Author
---