MSLO's Everyday Food Managing Digital Transition

Brand emphasizes video, multi-channel distribution.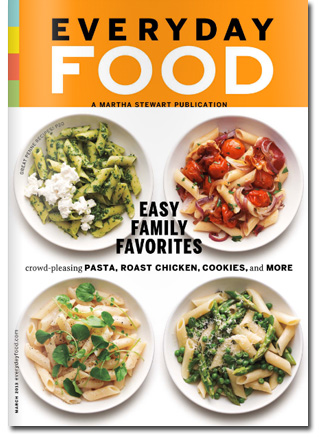 Everyday Food, a cooking specialty title under the Martha Stewart Living brand, announced it would shift its focus to digital late last year as part of an organizational restructuring that would help save the company up to $35 million.
Now, four months later, the publication has released the first of what will be five themed supplements to accompany Martha Stewart Living. While the print product–a 36-page, digest-sized folio–has less content that it did as a standalone 10-issue-per-year book, the brand's emphasis has changed, says Sarah Carey, editor-in-chief of Everyday Food.
"We're not creating as many recipes every single month, but we are creating new content every day," she says. "We're putting a lot more energy into our blog posts, for instance, even our Instagram feed. We're making all of the areas in which we work a little bit more interesting and full of new content."
Repurposing and promoting that content across different channels has been constant directive since the transition to a digital-first product began in November. New iPad Newsstand access and Windows 8 apps have helped; so have daily newsletters and, particularly, videos.
Though Carey's team has been producing cooking videos since last summer, they fit in well with the magazine's new mission now.
"We're putting a lot more energy and focus on it," Carey says, who appears on-screen in most of the clips. "We're trying to engage the users on different levels."
"Making cooking fun" is core to the brand, she says, so injecting her personality into editorial content allows her to do that.
While Everyday Food increases its focus on digital, part of the magazine's challenge lies in maintaining a relationship with its print readers. The magazine had a circulation of more than 1 million, per the Alliance for Audited Media, a number that had stayed relatively constant since 2009.
"We're figuring out ways to transition people to the web on a more frequent and daily basis," Carey says. "We're making it very clear that they have access to this and where they can find it and the different ways they can find it online."
With the release of the Everyday Food Extra supplement, integrating the web and print properties will be critical in the immediate future and moving forward. References and links to a customized video player are included in the digital version of the magazine, pointing readers to the site, and they're directly embedded in the iPad edition.
Richard Fontaine, senior vice president of consumer marketing for Martha Stewart Living, says that it's too soon to make a determination on how the brand has performed on that front however.
"It's too early to discuss any significant growth in Everyday Food's digital audience," he says. "We are actively promoting Sarah's daily videos through email subscription and our video distribution platforms, consistently growing the audience every month, and that platform provides us with an opportunity to reach and engage our audience with new content on a daily basis."
As a whole, Martha Stewart Living Omnimedia, released their fourth quarter and year-end results today, reporting lower revenues and higher operating losses year-over-year.
Its publishing arm took a $3.5 million hit in revenues in Q4, down to $35.3 million, citing "lower print and digital advertising revenues as well as lower circulation revenues."
To stay updated on the latest FOLIO: news, become a Facebook fan and follow us on Twitter!
Meet the Author
---