MPA to Meet With Top Administration Officials to Discuss Issues Affecting Magazine Industry

Board to convene in Washington, D.C. today.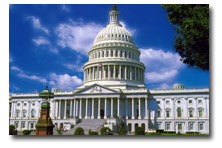 The Magazine Publishers of America's board of directors and government affairs committee was scheduled to meet on Capitol Hill with legislators from both sides of the aisle as well as top administration officials to "discuss policy issues important to the magazine industry," Chuck McCullagh, MPA's senior vice president, wrote in an e-mail to members today.
On the agenda: the Reporter's Shield Law, Congressional relief for Postal Service, tax exemptions for magazine subscriptions, the regulation of automatic subscription renewals and behavioral targeting legislation.
"While Postal Relief remains a central focus of our GAC, adverse legislation in these other areas could have profound implications for our overall business," McCullagh said.
Notably absent from the agenda: a federal bailout for magazine publishers.
That may be left to newspaper publishers.
Massachusetts Senator John F. Kerry has scheduled hearings in Washington this week on the ailing newspaper industry—including the troubled Boston Globe. The hearings, conducted by the Senate Commerce Committee are slated to begin April 30.
The MPA also announced Tuesday details about its Magazine Innovation Summit—the business-style event that will replace the American Magazine Conference on the association's calendar.
The one-and-a-half-day summit will be held October 14-15 at New York's grand Hyatt as well as various venues including Time Inc. and the Hearst Tower.
In January, the MPA cancelled this year's AMC, which had been slated for October in Boca Raton, Florida.
Meet the Author
---