The Most-Followed Magazines On Twitter, Part II

The top 11 magazines boast more than 1 million followers.
People and Time Magazine kept their stranglehold on the top two spots (2,912,504 and 2,870,423 followers, respectively) but almost every one of the 50 titles tracked by FOLIO has seen their number of Twitter followers boom since we last checked in January.
The top 11 magazines all have more than one million followers. Eight magazines posted growth of more than 100 percent since January, with Seventeen leading the way, up 147.6 percent to 281,959 followers as of the afternoon of 9/27 (others include Parents, up 118 percent; Playboy, up 116 percent; National Geographic up 105 percent; The Economist up 106.4 percent; Rolling Stone up 127.2 percent; Men's Health up 102.1 and The New Yorker up 104.7 percent).
Just five magazines posted single-digit increases since January: Women's Wear Daily (+9.3 percent); Newsweek (+9.6%); Sports Illustrated (+8 percent); Life (+1.2 percent) and Health (up 4 percent).
Twitter also helps brands punch way above their weight class. Good came in at #16 (up from #17 in January), eclipsing household names such such as Rolling Stone (#19) and Vanity Fair (#39).
And individual accounts don't capture the scope of some brands. New York Magazine has 67,757 Twitter followers, but a total Twitter audience of 467,313 divvied up across several different handlers including @Vulture with 34,210; DailyIntel at 10,890; GrubStreetNY at 39,010; and fashion site CutBlog at a whopping 315,446.
Did we miss you? Does your Twitter account crack the top 50? Let us know.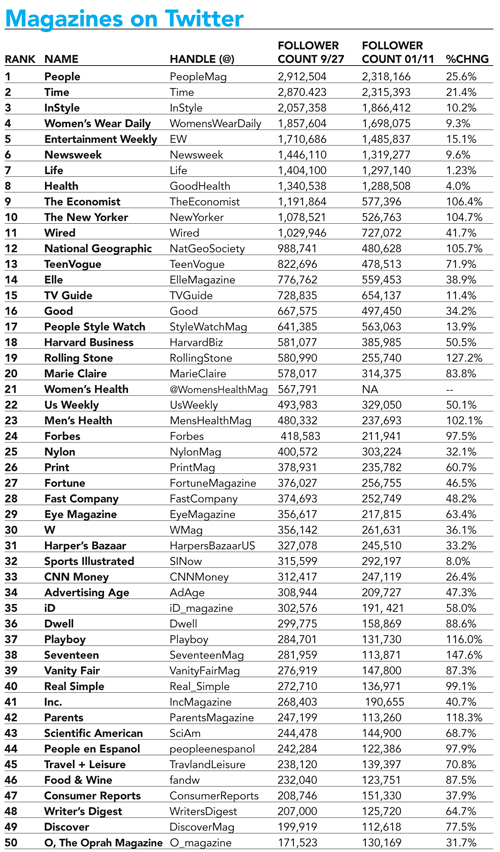 Meet the Authors
---