More Funding for Publish2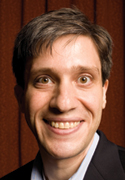 Last month, Publish2, a social network and news aggregator devoted to journalists, announced it received $2.75 million in financing from Velocity Interactive Group, an investment firm specializing in digital media and communications. The service is currently in private beta test and will use the funding to finish building out its platform and hire additional staffers.
Founded by Scott Karp (pictured right), former managing director at Atlantic Media and author of the Publishing 2.0 blog, and blogger Robert Young, Publish2 is intended to let participants capture information that appeals to their interests and collaborate with other journalists, who can submit content online similar to the aggregator site Digg and create their own personal profile page featuring their work.
The key will be monetizing the network—journalists don't typically make buying decisions. Karp is keeping the revenue model under wraps but says Publish2 is looking to expand on much of the groundwork that Digg has already created. "Digg was a real trailblazer and proved that this kind of social collaborative networking can work on a large scale and we're looking to extend the model," says Karp. "Digg has hit upon a certain amount of limitation with the way their open system is structured and the way it's been dominated by its audience of young, male tech enthusiasts. What we're aiming to do is compete with other aggregators and we're betting that human intelligence can have superior news judgment."
Meet the Author
---