Mike Reilly

CEO, Randall-Reilly Publishing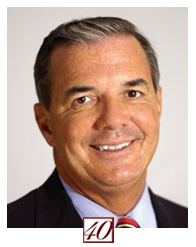 It's an age-old philosophy but Randall-Reilly Publishing CEO Mike Reilly sticks to it strictly: If it's not fun, don't do it. He's even been known to take drastic measures when he's not having a good time.
"We used to have magazines in the industrial pumps and aviation industries, but no one really had a passion or particularly enjoyed producing those titles, so we just sold them off," says Reilly, who started with the company 32 years ago.
So far, 2008 has been a year that Reilly has enjoyed. In late January, the Tuscaloosa, Alabama-based trucking and construction publisher was acquired by Investcorp, a global investment firm. Terms of the transaction, which closed a little more than a month later, were not revealed although one financial source estimated the price to be more than $150 million.
Only about a year earlier, when it was still called Randall Publishing, the company surprised the industry by announcing its sale to Wachovia Capital Partners and Reilly's then-newly-formed Randall-Reilly Publishing. The deal, estimated at $75 million, effectively ended the interests of the family and estate of H. Pettus Randall III in the 71-year-old publishing company.
"The core of our success is that we have the philosophy that if you want people to work, think and act like owners, then you have to pay them like owners," Reilly says. The company also includes its workforce in an equity growth plan that grades staffers three times per year based on critical achievement.
"Any time there's a refinancing or monetizing event the rank and file gets a check based on how long they've been with the company and their salary," Reilly says. "Our goal is to have everyone all pulling on the rope in the same direction at the same time."
Reilly plans to push Randall-Reilly to become a $50 million EBITDA company over the next five years with double-digit growth.
VITAL STATS: Randall-Reilly was sold to Investcorp in January for an estimated $150 million. Over the next five years Reilly says he wants Randall-Reilly to become a $50 million EBITDA company with double-digit growth.
Meet the Author
---