Michael Carr

President, Greenspun Media Group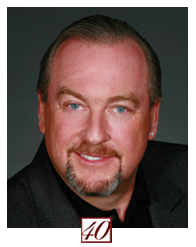 Michael Carr joined Greenspun Media Group (GMG) in 2003 as vice president of business development and was quickly promoted to president a few months later. Since then, revenues for the Las Vegas-based city and regional media company have grown 600 percent, with help from the launch of three new magazines (including Vegas, the company's first luxury title), eight suburban newspapers, and the acquisition of three companies—Niche Media, a New York-based luxury magazine company with titles including Aspen Peak, Boston Common, and Los Angeles Confidential; Ocean Drive Media Group, including Ocean Drive and Bal Harbour; and Philadelphia Style, a lifestyle and fashion magazine from DLG Media Holdings. Employment at GMG has grown 300 percent, from 85 to 600 people.
Greenspun's four luxury publications—City Center, Vegas, Venetian Style and Wynn—along with the luxury titles of Niche and Ocean Drive Media form a combined distribution of 750,000 controlled circulation, a model that was dismissed by critics a few years ago but which is now proving itself a force to be reckoned with.
"At the end of the day, in the areas we publish, the most important thing to our advertisers is that the magazine is in the hands of our exact target," he says. "Some paid magazines aren't worth the paper they're printed on. It's something done to build up falsehood, trying to build a rate base and gain advertisers they don't deserve."
Carr isn't fazed by his critics: "I have been subject to ridicule most of my career," he says. "Executional excellence quiets all those people."
Next month, Greenspun is launching what Carr calls a "category-crushing" Web portal of Vegas restaurants, entertainment, sporting events and other local information. The company plans to roll out similar portals in 15 other markets this year.
VITAL STATS: Under Carr's leadership, Greenspun Media Group's revenues have increased 600 percent since 2003. The company has grown from 85 to 600 employees and publishes more than 30 titles, including those under the company's Niche Media umbrella.
Meet the Author
---