Michael Arrington

Founder, TechCrunch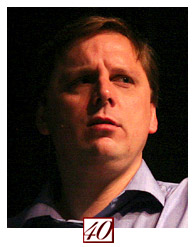 He's been called a "kingmaker," a "latter-day Henry Blodget," an "international clearinghouse for gossip and rumor about Silicon Valley"—the tech industry's "newest power broker." And why not? Despite the cynic's inclination to dismiss the flowery talk like all that preceded the dot-com crash earlier in the decade, for once it's not spitting into the Santa Ana wind. Michael Arrington, founder and entrepreneur behind two-and-a-half-year-old Silicon Valley blog TechCrunch, has influenced the tight-knit tech industry more than anyone covering the business of the Internet.
That influence comes from the steady stream of scoops Arrington posts (he was credited with breaking news of Google's $1.65 billion acquisition of YouTube before the Wall Street Journal); his previous successes, first as a Silicon Valley lawyer during the dot-com boom, then as a successful entrepreneur who sold his own tech startup—Achex—for $30 million shortly after the bust. A link from TechCrunch is coveted by start-ups—giving unknown entrepreneurs "life-changing" spikes in traffic, as one told the Wall Street Journal in 2006.
His site, which boasts 2.7 million page views a month, has become a must-read for top players including Steve Jobs—which has attracted high-end advertisers and more than $200,000 in monthly revenue. Arrington, who works out of his house with eight staffers, has developed a multiplatform business (TechCrunch and the TechGadgets spinoff) that has grown from hosting backyard barbeques to splashy Hollywood parties and an annual conference, the TechCrunch 40, that drew over a thousand attendees in its first year. His quick success has also led to an influx of talent and speculation that Arrington, who spent the early part of the decade surfing away his Achex payday, may wind up cashing in on TechCrunch before too long.
VITAL STATS: Arrington's TechCrunch boasts 2.7 million unique visitors a month and generates over $200,000 a month in advertising revenue.
Meet the Author
---