Meredith Reports Fiscal 2008, 4th Quarter Losses

Attributes poor performance to lower advertising demand.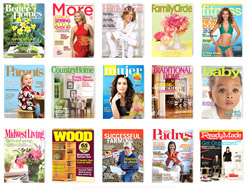 Meredith Corporation today reported fiscal 2008 revenue was $1.58 billion down about two percent from $1.61 billion in 2007. Net earnings, however, were $134.6 million, down 17 percent from $162.3 million in 2007.
Fiscal fourth quarter revenue was $385.1 million, down about 10 percent from $428.4 million during the same period in 2007. Meanwhile, net earnings for the quarter were down 63 percent, reaching only $19.1 million from $51.5 million during the same period last year.
Operating profit for Meredith's publishing division fiscal 2008 was $190 million, down about 12 percent from $216 million in 2007. Fourth quarter operating profit was $26 million, plummeting 63 percent from $70 million during the same period last year.
During the fourth quarter, Meredith recorded an after-tax special charge of $16 million, related primarily to the repositioning of its book publishing business and selected reductions in force, the company said. In June, Meredith cut 60 jobs, about 20 of which came from its magazine operations.
Meredith attributed the losses to lower advertising demand, a soft retail marketplace in its book operation and paper costs.
"We believe current economic trends are cyclical in nature and not structural as they pertain to our industry or Meredith in particular," president and CEO Stephen M. Lacy said in a statement. "We possess great brands, sound growth strategies, strong management and a committed and talented workforce. I'm confident we will emerge from this cycle in an even stronger and more competitive position."
Meredith said it is executing a "three-pronged" plan to increase performance, including the creation of special sales incentives and new marketing programs, "aggressive" expense management and several revenue diversification initiatives.
Meet the Author
---