Melissa Weber

Managing editor, CURE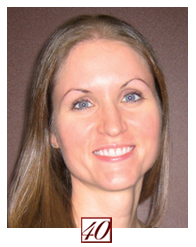 "I just want to thank you for helping save my life," wrote one CURE (Cancer Updates, Research and Education) reader in a letter to the editor. "This is where I found out about a new drug for non-small cell lung cancer…The drug completely destroyed my tumors in six months…My wife and I went from looking at gravesites to looking at houses."
Every article in CURE, a magazine primarily for cancer patients and their caregivers, is designed to be not only inspirational and emotionally supportive but also practical, according to managing editor Melissa Weber. "It's a huge responsibility," she says, to not just tell stories but offer information on the decisions cancer patients and their families have to make each day.
Weber started as an assistant editor with CURE right after its launch in 2002 and quickly worked up to managing editor in 2004. "I've been given a lot of opportunities and I've snatched them up," she says.
She was part of a four-person staff when she joined. Now, CURE employees 15 people, including a full-time editorial team of five. As a leader, Weber reminds CURE's editors and writers to get into the mindset of someone facing cancer-which is not too hard for some, since many are survivors themselves.
In the years since she started, Weber says Cure has grown "from this little magazine to a whole community" of diagnosed patients, caregivers, people in cancer advocacy groups, medical professionals, and survivors.
Extending the community to cancer survivors is an ongoing goal which began with the launch of a special annual Survivors Issue in 2006, with help from the Lance Armstrong Foundation. After seeing positive feedback, CURE launched an annual Resource Guide with the American Cancer Society, which has also been praised by readers.
VITAL STATS: The CURE community has grown steadily since its launch in 2002, led primarily by the print magazine. Readers are highly engaged with the editorial content, with some saying it even helped save their lives.
Meet the Author
---