Meghan Loftus

Associate Multimedia Editor, Runner's World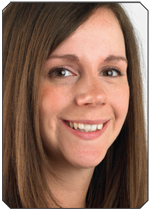 By reigning in social media, Loftus has kept Runner's World a step ahead of the competition through executing unique online campaigns.
In the increasingly digital world of 2012, being social—on whatever platform you choose—is an extremely important aspect of a brand's overall content strategy. Loftus understands this and has been able to enhance the value proposition of Rodale's Runner's World by taking the brand's message to the masses on Twitter.
"Our holiday running streak was huge on social media," she says. "I came up with the idea with a friend who was also having trouble staying motivated to run through the holidays. We pledged to run a least a mile a day from Thanksgiving to New Years. I ended up sharing it with RunnersWorld.com readers on one of our blogs, asking them to join me. That introductory post was the most visited blog in November with over 27,000 views—that's about 10,000 more than the next most popular."
Loftus uses social media as a way to provide content exclusives to readers and further extend the brand's footprint—she created the hash-tag RWRunStreak that generated 7,000 tweets from about 1,100 users. During that time, the Runner's World Twitter following grew by almost 34,000 followers or 22 percent.
"For the Olympic Marathon trials, we provided coverage in January—NBC owned the rights and didn't provide a live stream, so die-hard running fans turned to us for coverage," she says. "We live blogged and tweeted the race; it was pretty much the only way people could follow the race in real time. We're planning the same kind of coverage for the track trials that are coming up in June."
Since these fall and winter campaigns proved to be successful, Loftus says the group is rolling out new initiatives on the heels of the RWRunStreak campaign, including the Boston Marathon in April.
VITAL STATS: In one year, the magazine was able to increase its Facebook following by 111 percent, up to 309,070 likes as of February 8, an increase of 163,000 from January 2011 and an increase of 15,070 from since the first of this year. Similarly, the publication's Twitter followers also saw steep increases—in one year the title increased its following on the platform by 293 percent, from 54,000 to 212,000. Furthermore, the magazine's Twitter platform increased by 18.4 percent from 179,000 to its current number since the first of this year.
Meet the Author
---