Medium Upgrades Design Features, Curation Options

Improvements focus on added visual elements and expanded editorial collection.

Medium, the long-form storytelling platform launched by former Twitter CEO Ev Williams, unveiled major improvements to their digital publishing system. The system upgrade, called Medium 1.0, is seemingly a response by Williams to early criticism that the online publishing site had no definable identity.
"We set out on a mission to build a new publishing platform from scratch," Williams says in a blog post. "A place that allowed anyone to easily share stories and ideas that mattered to them and influenced others."
Medium's responsive site design's two major upgrades to the style of content publication and the shareability of that content via the platform's expanded curation options help identify the two faces of Medium.
As a content creation tool, Medium 1.0 offers an updated design heavily focused on the power of visuals in addition to words, exemplified by the "Beautiful Stories" collection that showcases full-bleeding cover images and the new available features at their best.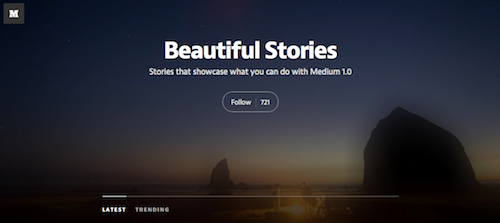 As an open share space, Medium's overhaul of its collections was a necessity.
"Collections on Medium have always been powerful but, frankly, a little confusing," Williams says. "With Medium 1.0, we're revamping how collections work."
With Medium, collections fell into two categories: "invite-only," offered to a limited few content publishers, or "open," which was available to everyone for contribution. However, in both cases, collection creators could only cull stories after they were added. With Medium 1.0, collection creators, called "editors," have full moderation powers. Only stories the editors approve will appear in collections they create.
"For those who want to share their own stories and ideas, there are additional options," Williams says. "You can publish your story without putting it in a collection at all or you can create your own collection(s) and be your own editor."
According to Williams, the boosted collection structure will help authors "tap into more of the power and audience of Medium."
"We think these changes will provide a powerful ecosystem that helps all those who want to discover and share stories and ideas," he says.
 
Meet the Author
---