MediaNext: Scaling Quality Journalism

James Bankoff discussed how Vox Media delivers quality content en masse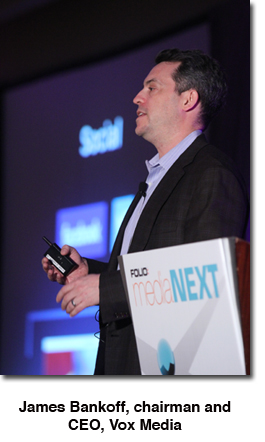 New York–Any media company dedicated to quality journalism can produce it, but not all can sustain themselves on it. Scaling that quality-building it out into a usable, profitable model-is the challenge publishers face going forward.
James Bankoff, chairman and CEO of Vox Media, a digital pure-play which owns and operates sports site network SB Nation, tech media title The Verge and a new gamer site, Polygon, addressed the issue as the opening keynote speaker at FOLIO:'s MediaNext industry conference in New York this afternoon.
"We're trying to scale quality," he said. "Quality journalism, quality design, quality advertising integration, quality audience development-ultimately ending up with quality brands."
Audience Fragmentation
It's becoming increasingly evident, Bankoff noted, that audiences are moving away from traditional outlets, instead gravitating towards more specialized, niche voices. Previous experience in the development of celebrity-news giant TMZ taught him the lessons that now drive SB Nation.
"It's really important to understand that fragmentation has occurred," he said, pointing to SB Nation's highly-individualized, but vast network of team sites. "And we take that to the nth degree. We literally have a website for each individual team. [We have] a brand that speak just to them. Multiply that by every single team in the U.S. and increasingly in Europe, and you get 320 different URLs, 320 different brands that each speak to communities and fans of that team."
Web-Native Editorial
The tools for reaching the fragmented audience are there, but they're still being perfected-"We've by no means figured it out," Bankoff admitted, "but we're pretty advanced in trying things."
Editorially, finding web-native talent is the No. 1 priority. The days of reporters working their way up from small, local beats to a national stage are gone. Instead, Bankoff will pluck those who've proven that they can already be successful on their own. Add SB Nation's resources, and it's a formula for scale.
Timing is also a key ingredient in overcoming fragmentation.
"We've gone from a weekly news cycle, to a daily, to a nanosecond," Bankoff said, who noted that Vox charts the length of time it takes for writers to get a story onto the site.
Advertising
While the best practices for editorial content are still being figured out and experimented with, advertising is at a distinct crossroads, according to Bankoff. The future for media publishers is either in programmatic, systematized buying, or in more creative, customized space.
Believing in the latter, Vox has implemented several of more integrated, customized campaigns in selling site backgrounds.
"It takes up a lot of pixel space," he said, "but the consumers love it."
With more than 300 individual brands, the numbers vary, but they tend to back up the statement. Vox is seeing a 1 to 10 percent click-though rate with these custom ad models, 10 to 100 times more than more traditional ad campaigns.
To stay updated on the latest FOLIO: news, become a Facebook fan and follow us on Twitter!
Meet the Author
---