Media M&A Activity Slows in 1H

Activity picks up after sluggish Q1, but falls short of 2012 totals.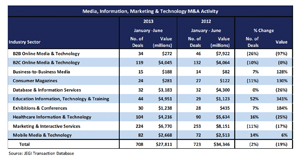 Media business purchasing picked up after a slow first quarter, but year-over-year activity was down in the first half of 2013, according to reports from investment banks the Jordan, Edmiston Group (JEGI) and Berkery Noyes.
Both firms say volume dropped, but differ on aggregate value numbers. JEGI put the declines at 2 percent (708 deals) and 19 percent ($27.8 billion), respectively, while Berkery Noyes recorded an 8-percent (794) drop in volume and a 2-percent increase ($29.5 billion) increase in value. The reports do not look at identical markets.
Though lower than 1H 2012 totals, the 2013 numbers still represent a gain over previous historical activity. First half deal value hadn't topped $25 billion since 2007, under JEGI's metrics; the number of deals had never even hit 500 until last year.
Pricing trends and buyer profiles were similarly mixed, according to Berkery Noyes.
Median revenue multiples increased from 1.2x to 2.1x—a 30-month high—while EBITDA multiples also went up from 7.8x to 8.3x.
Those changes may be a reflection of the buyers market which saw financials cut back by more than 35 percent in 2013.
Mixed Media Results
Like deal flow and pricing trends, media results were mixed when broken down by segment.
The void left from last year's $7.1 billion Alibaba-Yahoo deal made for a considerable decline in b-to-b totals. BC Partners' $4.4 billion acquisition of Springer Science & Business Media—the largest deal of any media sector in the first half—made up for some of the difference, but not all.
Online b-to-b media and technology (34 deals; $272 million) slowed considerably, while traditional b-to-b media activity (15; $188 million) increased, per JEGI. Berkery Noyes' report concurred, noting a slight increase in b-to-b deal volume.
The firms differed on M&A in consumer publishing, however.
JEGI had volume down about 10 percent across online and print consumer properties, while Berkery Noyes recorded 21-percent growth in consumer publishing—the largest jump for any segment.
Among the notable 1H media deals were Google's $1.3 billion Waze purchase, Yahoo's $1.1 billion Tumblr pick up, LinkedIn's $90 million Pulse buy and the $94 million Demand Media acquisition of ecommerce marketplace Society6.
*Editor's note: This story has been corrected to reflect year-over-year comparisons in the Berkery Noyes report. A previous version of this story incorrectly referred to a a 2H 2012 to 1H 2013 comparison as year-over-year.
Meet the Author
---