Is the Media Iceberg Melting?

Custom or branded content has reached critical mass.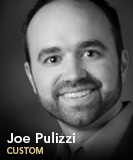 The days are quickly disappearing where we were used to seeing media companies trying to organize around custom publishing solutions without stealing or steering money from the larger brand properties. It didn't work then, and it surely doesn't work now.
There is going to be a major change in leadership in this new media age. Those companies that see the iceberg melting (more on that later) are going to redirect their talent and their skills toward providing clients and customers with powerful, trusted content that will be the primary driver of buying behavior in the future.
Shift in Buyer Attitudes Toward the "Credibility" of Content
Media companies have always had two distinct drivers that made the publishing business model work. The first was the ability to acquire and deliver a targeted audience. The second was to deliver high-quality content to that particular market segment. Magazine publishers were one of the first "community builders"—and many still hold that role now.
Although most media companies are still set up under this business model, neither of these two drivers are true today. Search engines such as Google have democratized content to such a point that anyone with good content and a bit of search engine savvy can find their content on the first page. Buyers want information fast and search engines help them get it.
Moreover, as long as today's buyers get their answers, they don't care as much where the content comes from. They are open to learning from and acting on quality content, whether it comes from McGraw-Hill, or from a custom publication, newsletter, a company Web site, or a favorite blog.
IBM vice president of marketing Ed Abrams recently stated that search engines, blogs and Wikis will be the most powerful informational sources next year for their target decision-makers. Media brands will be part of this equation, but becoming less and less so each day.
Corporations Are Learning How to Better Target Buyers
Magazines, particularly in the trades, were always successful because of their audience access and precise targeting abilities. Today, many non-media organizations have better customer information than their media counterparts. Also, corporations are able to "ultra-target" their end users. Some are even using hundreds of versions of their Web and print content based on specific buyer needs and interests.
Shrinking Media Budgets Have Reduced Content Quality
We've all seen it. Some of the best journalists have either left media organizations voluntarily or have been downsized. These same journalists are now creating content for corporations, which have taken these same human resources and developed some of the very best editorial processes around.
Non-media organizations have the financial resources to pay for some of the best content available, and that's what they are doing. With media companies bound by traditional P&L drivers, it's a challenge to compete against organizations that don't have to make a profit from their content alone.
Is the Iceberg Melting?
John Kotter's best-seller, "Our Iceberg Is Melting," provides a vivid example of what is happening in the media industry today. The story is about a group of penguins in Antarctica, where they have lived happily on an iceberg for many years. Then one day, a curious bird discovers a problem that could destroy their home. No one listens, and the penguins keep doing what they have always done. Finally, the penguins are faced with the fact that they must move, or face probable death.
This is the plight that faces traditional media. Corporations need content in order to survive, and all the trends show that this direction is only going to accelerate. If the iceberg hasn't melted, it's on the verge of cracking.
Media companies that can make the transition to offering their services up to corporations are the ones that will lead the new media business model. A few are dealing with these changes and are making major adjustments. Many are not. Which one will you be?
Joe Pulizzi is founder of Junta42 Match, a free online service for businesses to find content vendors. He is also co-author of the book, Get Content. Get Customers., which shows businesses how to create their own content marketing strategies. He can be contacted directly at joe@junta42.com.
Meet the Author