Meredith Deal with Media General Hangs By a Thread

Media General has made 'several proposals' to terminate Meredith merger and go with Nexstar buyout bid. Meredith counters with new deal terms.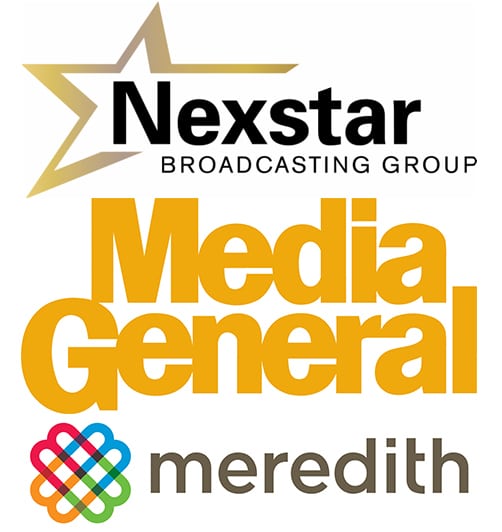 In a sale that would scuttle its merger with Meredith Corp., Media General announced this morning that it has completed negotiations with proposed buyer Nexstar Broadcasting Group, but cautioned that it's not a done deal as long as its binding agreement to merge with Meredith is still on the table.
Under the new terms with Nexstar announced today, Media General shareholders would receive—per share—$10.55 in cash and about 12.5 percent of a share of Nexstar Class A common stock.
Nexstar has been attempting to disrupt the Media General/Meredith merger ever since submitting an unscolicited proposal to buy Media General in September. That proposal effectively put the Meredith merger on hold; Meredith eventually granted Media General a waiver to share non-public information with Nexstar, and negotiations officially began in November.
Since then, both suitors have been looking to sweeten the deal.
In response to this morning's announcement, Meredith offered new terms to Media General. Proposing what it called a "merger of equals," Meredith amended the merger agreement to give Media General shareholders $3.90 in cash for each share and one full share of the new Meredith Media General, as well as an annual dividend starting at $0.68 per share.
That's in contrast to the existing terms of the merger, under which Media General shareholders would receive one share of the new company and no cash proceeds.
Additionally, former Media General shareholders would own 50.2 percent of the new company.
Under the negotiated terms with Nexstar announced today, former Media General shareholders would hold 33.4 percent of Nexstar's outstanding shares. Nexstar would also shed an unspecified number of TV stations to meet FCC approval.
Despite the agreement, Media General can't make any deal with Nexstar a reality until the earlier Meredith merger agreement has been terminated. Media General said in a statement that it's made "several proposals" to Meredith to kill the binding agreement, but that, so far, Meredith has refused to accept.
"We're confident that the combination of Meredith and Media General will generate superior value over both the near- and long-term, particularly when compared to the unsolicited offer Nexstar Broadcasting Group has made for Media General," said Meredith chairman and CEO Stephen M. Lacy, in a statement.
Should Meredith continue to stand its ground, the only way out for Media General would be via shareholder vote. If Media General shareholders vote against approving the merger with Meredith, Media General would be free to move ahead with the Nexstar transaction.
As of mid-November, Media General's board of directors still recommended sticking with the Meredith deal, although it agreed unanimously to open negotiations with Nexstar in the meantime.
Nexstar said Thursday that it looks forward to signing a definitive agreement with Media General as soon as the Meredith deal is terminated.
Meanwhile, Meredith said Thursday in a statemnent that it "will continue along the current regulatory approval timeline" for the Media General Merger, targeting a closing date of June 30 and saying that—due to FCC proceedings—no Nexstar/Media General deal could possibly be completed for at least a year.
"Given the compelling and superior value inherent in this proposal, we ask that the Media General Board of Directors re-enter serious negotiations around the Merger of Equals structure and its merits," added Lacy.
Meet the Author
---