McCracken's Technologizer: 'There's Almost Nothing that Can Knock Us Out of Business'

A year after launching, tech news site on track for 'biggest' month yet.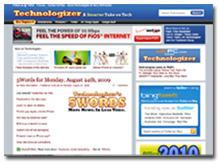 Last summer, about a month after leaving PC World as top editor, Harry McCracken moved online and launched Technologizer.com, a tech news and analysis site. Now, about a year after going live, Technologizer has found its rhythm.
In fact, according to McCracken, August is shaping up to be Technologizer's biggest month so far. The site is on track to hit two million page views and about 400,000 unique visitors.
"Technologizer is the best job I've ever had," McCracken said in an e-mail to FOLIO:. "The best part is simply doing it from scratch—starting a new brand, starting with no readers and finding them one-by-one, and building a community and a sustainable business."
McCracken said August is also on track to be Technologizer's biggest month in terms of revenue (he said monthly ad revenues are "currently in the five digits"). McCracken monetizes the site primarily through display advertising and, more recently, through online products like Webinars. The site's only full-time staffer, McCracken said he's worked with advertisers including Adobe, Microsoft and Sprint.
"My strategy for the site has been to grow traffic while keeping costs extremely low and thereby make the site self-sustaining quickly without having to seek outside funding," McCracken said. "We're profitable based on advertising revenue, and I've never had reason to regret giving up the generous salary I got as the editor-in-chief of the largest computer magazine in existence."
McCracken took the post of vice president and editor-in-chief of IDG's PC World in March 2004. During his time as top editor, the magazine pulled in more than 60 awards, including numerous Jesse H. Neal editorial awards and FOLIO:'s annual Eddie awards.
After leaving PC World, McCracken launched Technologizer last summer in an advertising partnership with Federated Media. In May, McCracken founded TWTRCON, a one-day conference in San Francisco focused on the business use and value of Twitter. The event, produced by Modern Media Partners, attracted "several hundred" attendees. McCracken is planning the second TWTRCON in Washington D.C. in October.
And, even as the online tech news market gets more crowded, McCracken said Technologizer is increasingly relevant. "Technologizer's model—an ambitious site that occasionally does 500,000 page views in one day, but which comes from a one-person company—remains fairly unusual," he said. "I've intentionally kept overhead to a minimum so the bar of success is not high and there's almost nothing that can knock us out of business."
Meet the Author
---