Maxim, Blender Could Go to Creditors

Report: Publisher Alpha Media in restructuring talks; revenues slide.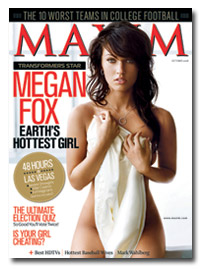 Maxim publisher Alpha Media is in restructuring talks that could result in the company being turned over to creditors.
With revenues declining at its magazine products, Alpha has been forced to violate debt covenants, according to a Wall Street Journal report. Alpha's EBITDA has fallen to roughly $8 million, down about 70 percent from $28 million when it was acquired by Quadrangle Partners in 2007, the report said.
An Alpha Media spokesperson could not be immediately reached for comment.
Through the first nine months, Maxim's ad pages were mostly flat compared to the same period last year, according to the Publisher's Information Bureau. Overall circulation slipped 1.3 percent, according to the Audit Bureau of Circulation's latest Fas-Fax report.
Meanwhile, year-to-date ad pages at Alpha-owned music magazine Blender were down 24.6 percent and estimated ad revenue was fell 13.5 percent to $37.4 million. However, Blender's paid and verified circulation grew 15.3 percent, mostly through new subscriptions.
Quadrangle Partners purchased Alpha from U.K.'s Dennis Publishing (minus the Week) in June 2007 for $240 million. Only about $90 million of that was equity; the rest was debt.
Kent Brownridge, who helped engineer the Quadrangle deal, stepped down from his post as Alpha CEO in August. Less than two weeks later, the former Wenner Media executive was named general manager at the U.S. edition of OK! magazine.
Meet the Author
---