Martha Stewart Looks Inward for Editor of Flagship

Top editor position filled after a year; acting ed named editorial director.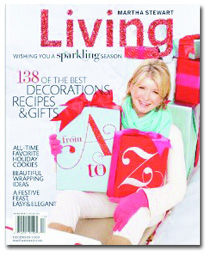 Martha Stewart Living Omnimedia Friday said it has promoted Martha Stewart Weddings editor-in-chief Vanessa Holden to editor-in-chief of Martha Stewart Living. Holden will be replaced at Martha Stewart Weddings by that magazine's style director, Katie Hatch.
Concurrently, Gael Towey, who served as MSL's acting editor-in-chief, was named editorial director.  Holden and Hatch will report to Towey, who previously served as chief creative officer.
"At MSLO, we are very fortunate to have an extraordinarily deep and talented team," MSLO founder Martha Stewart said in a statement announcing the personnel changes.
The top editor position at MSL was vacated in a full-time capacity in January when Michael Boodro left the company reportedly as part of restructuring.
Holden joined MSLO in August 2008 as editor-in-chief of Martha Stewart Weddings. Hatch started at MSLO in 1999 as a freelancer before being promoted to associate style editor at Weddings in 2000.
Meet the Author
---