Martha Luchsinger

Online media optimization manager, Hanley Wood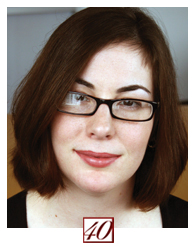 Simply selling digital advertising is no longer enough. Underperform and you've opened up a new round of digital makegoods.
Still, most publishers are serving digital ads with two fingers crossed behind their back. In late 2007, Hanley Wood created a position called online media optimization manager that identifies and fixes underperforming campaigns before it's too late.
Hanley Wood veteran Martha Luchsinger stepped into the position. Luchsinger held three previous positions at Hanley Wood, including production operations manager, sales and database manager and worked on marketing for Hanley Wood events. "I had developed a track record of being able to analyze complex data and I had gained a strong understanding of sales customers and was able to work well across organizational boundaries," says Luchsinger. "What I'm trying to do is provide actual business intelligence and recommendations based on data output by our performance system."
Luchsinger oversees all aspects of systems reporting as it relates to performance and yield management and uses data to uncover operational issues. She works across departments to develop best practices solutions. "A lot of it is refining systems to get internal data but in doing so we uncover a lot of data for our external customers as well," says Luchsinger. "I also monitor campaigns for problems and I'm communicating that information to sales or directly to the advertiser."
"For us, the difference from 2006 and 2007 into 2008 was well north of $100,000," says Alec Dann, general manager of Hanley Wood Magazines Online. "With what we ended up having to give back because we couldn't serve it this year versus the previous year, the position paid for itself."
VITAL STATS: Between November and Dec. 2007, Luchsinger helped reduce Hanley Wood's online revenue loss due to under-delivery by 30 percent.
Meet the Author
---