Marie Claire Taps Twitter for More Than Just Traffic Bump

Magazine's five uses of popular social media site.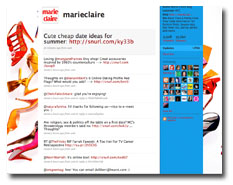 The legion of people—and magazines—using Twitter multiplies daily. For example, Marie Claire's account has more than 13,000 followers who, in May, drove more than 32,000 additional page views to MarieClaire.com.
But we use Twitter for more than just linking to our stories and other news; it's a powerful social networking tool. From seeking feedback to answering questions to arranging blind dates, tweeting, for us, has evolved into a fun way to communicate with some of our most engaged readers/followers.
Here are five ways we're using Twitter:
Looking for Fresh Content
Marie Claire regularly connects with Twitter followers for new, reader-generated content. Recently, Marie Claire followers have submitted their worst date stories, participated in a poll about dating in their cities, and emailed us about their favorite bloggers on Twitter for our Blog Crush feature. We've also used Twitter to mine for career and money experts to answer question for our Career & Money Coach blog.
Live Tweeting
We tweeted during each new episode of Marie Claire's reality show, Running in Heels, and will be doing the same during the new season of Project Runway. We also live-tweeted a blind date in April, in which I went on a blind date with another Twitter user, both tweeting the whole evening for a real-time he said/she said. Our followers had a lot of fun reading along and commenting, and many stuck around through the whole five-hour date.
Answering Reader Questions
Getting on Twitter has allowed us to provide almost immediate answers to reader questions and concerns. We check our replies daily, along with any mentions of the magazine and site by Twitter users that don't necessarily know we're on Twitter yet, and we answer their questions, from queries about specific issues ("who designed the jacket Christina Aguilera wore on your cover last year?") to readers' problems that our content can answer ("so stressed—anyone have stress busting or work/life balance tips?") We also make sure that we follow back and talk to those Tweeters that reply to us and retweet us often so that the conversation isn't one-sided.
Developing Relationships with Other Sites & Bloggers
In addition to developing relationships with our readers and Twitter followers, we also keep up with the tweets of sites and bloggers whose readers overlap with ours (like @TheFrisky, @LemondropTweets, and @YourTango). Replying to and retweeting each other opens up the conversation to a larger group of Tweeters and helps all of us to further establish our presence and value on Twitter.
Offering Discounts, Coupons and Freebies
We love being able to share deals with our followers—we tweet all of our shopping discounts on our Diary of Fashionista blog, update followers on our daily giveaways, and retweet other great deals and sales that we hear about. We also recently tweeted about a one-day subscription sale on all Hearst magazines. It was retweeted 42 times and we got great feedback from our followers—many not only subscribed to Marie Claire, but to a handful of the other magazines as well!
Meet the Author
---