Magazines Love the iPad, but No iPad Ads Appear in Magazines

No iPad ads in MPA magazines since July 2010, per MagazineRadar.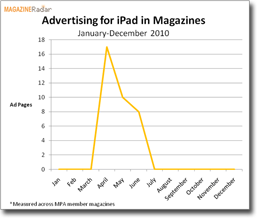 While 67 percent of media buyers are planning to put some of their budgets toward the iPad this year, ads for the iPad haven't run in MPA member magazines since July 1, 2010, according to magazine data provider MagazineRadar.
There were 35 iPad ad pages in 19 magazines, all within the first three months of launching the device. The campaign peaked in April 2010 at 17 pages, and ended by July 1.
Meet the Author
---