Magazines Expand Business Models With Marketing Services, E-Commerce…and Matchmaking

NYMag.com partners with dating site HowAboutWe.com.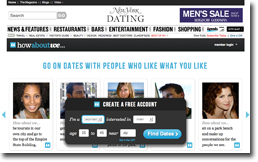 Personal ads, once a staple of the publishing industry, have gone to the wayside with the emergence of online dating sites, as well as classified ad prejudice (Craig's List, anyone?).
Depiction of "Want" ads have suffered greatly in the media – Sleepless in Seattle may have gave lonely hearts hope of meeting blue-eyed strangers through media in the 90's; but Lifetime's recent Craig's List Killer made-for-TV movie warns contemporary audiences against inter-Internet rendezvouses.
New York Magazine is attempting to bring the personal ad boom back into the mainstream of publishing by partnering with online dating site HowAboutWe.com. On NYmag.com, HowAboutWe.com is included in its editorial content, and "will feature Nymag.com's top navigation", according to a press statement. Located in the dating section, the site can be found at nymag.howaboutwe.com.
HowAboutWe.com users finish the phrase "How about we…" with an activity of their choosing, and other interested users can take them up on the suggested date if they decide to do so. The dating site was founded in 2010 in Brooklyn, New York.
As publishers struggle to keep their audiences engaged and advertisers buying across a multitude of platforms (print, in app, on the Web), more and more often services outside of content are being developed to strengthen business models.
For readers of print and users of digital, publishers continue to find new ways to fulfill needs and/or wants of their audiences. E-commerce is gaining speed with large publishing companies like Hearst, offering readers the chance to buy what they see on the websites and in the apps of their favorite publication.
Commerce entering editorial is extending into the print world as well, with publications like Lucky Magazine offering "text to buy" options below select products.
Now with New York Magazine's new partnership with HowAboutWe.com, looks as if users can not only purchase the season's newest accessories through editorial content, but find a date to wear them to. It'll be interesting to watch if this new faction of NYMag.com becomes "a lucrative source of revenue", as they claimed their former back-of-the-book classified section used to be.
Meet the Author
---