Research Firm to Begin Testing Waiting Room Readership with RFID

Futuristic measurement of magazines gets closer to reality.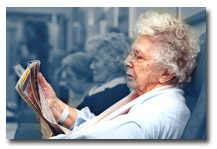 It may not be too long before publishers know exactly how much their magazines are being read in public waiting rooms, according to Mediamark Research and Intelligence. The research firm last week announced that it will begin testing its Passive Print Measuring System—a tag inserted into a plastic cover that uses radio frequency identification (RFID) to measure magazine readership.
MRI, in a partnership with DJG Marketing's Waiting Room Subscription Services (WRSS), is planning to launch the public tests in two phases in the first quarter of 2008—first in one to three waiting rooms, and then in 10 to 20, at which point support would be sought from publishers and other sponsors to pay for the hardware, MRI's senior vice president Jay Mattlin wrote in an e-mail to FOLIO:. The hardware costs $20 per unit , according to a white paper MRI presented in October to the Worldwide Readership Symposium in Vienna, Austria, which makes using the technology "for a broader purpose" like placing the tags in every issue of every magazine "financially inconceivable."
For now, MRI is placing samples in public spaces, the "most feasible short-term application of RFID" for measuring print exposure. But the technology still has some issues. Though the in-house testing garnered positive results—90 percent accuracy in detecting openings and closings of entire magazines and 80 to 85 percent accuracy for individual marked pages, according to Mattlin—concerns still remain. As yet, the RFID tag does not fit in digest-sized magazines and may not be reliable in testing "high-impact ads" (with fold-outs, pop-ups, etc.). It also isn't as effective with longer magazines or with certain reading styles—such as when readers fold back the front cover or with "non-traditional reading" (such as when a magazine is read back to front).
Testing will take place through 2008 and beyond, if necessary, according to Mattlin.
The Future of RFID
Despite the technical obstacles, the future of RFID is bright. According to the white paper, the point at which "it is technically and economically possible to passively measure exposure to all magazines may arrive while most of us are still working in this field" and "may even happen while magazines are still being printed and read on paper!" Major obstacles, however, would remain on the research end: gaining universal publisher cooperation, expanding the sample in order to measure every page and issue reliably, and the cost and labor of maintaining a panel.
There's also an obstacle on the "philosophical end": if RFID was placed in every magazine, measuring exposure in the same way as television and radio, it could imply "that consumers' interaction with print is as passive as their interaction with electronic media."
If waiting room testing proves successful, MRI would use the RFID technology to enhance their "quality of reading" metrics (time spent with an issue and frequency of reading), Mattlin writes, and move beyond recall or observation-based tools to provide publishers with gross estimates of exposure to individual magazine ads, issues or campaigns in public places.
Meet the Author
---