Magazine Uses RFID Tags to Connect to Internet

French title says it is the 'first-ever magazine connected to the Web.'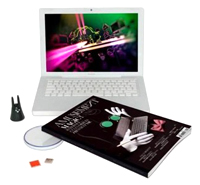 For years, forward-thinking magazine publishers have been experimenting with connecting their print products to the Web using various techniques—from using dedicated URLs and mobile phone prompts to embedding scannable barcodes.
Now, a French lifestyle and technology magazine called Amusement is taking the task a step further, physically linking a page in its magazine to the Web. (Amusement is billing itself as the "first-ever magazine connected to the Internet.")
The process is something out of a James Bond film.
Using an RFID ("Radio-frequency identification") tag affixed to a page in the quarterly magazine, readers are instructed to bring the page near a specially-designed "RFID interrogator," which plugs into a computer's USB port. The RFID-tagged page has a unique ID number, which is then scanned by the device, unlocking exclusive online content—in this case, games, videos and assorted digital applications.
"We consider this latest issue of Amusement to be an excellent door-opener for connecting traditional and new media using minute tags," said Mikko Nikkaken, business development director for the Raflatac division of UPM, the paper manufacturer. "We view this as a highly-attractive, real-life application."
Nikkaken said using RFID technology like this will become more commonplace, particularly for game and hobby magazines.
The cost of RFID deployment like this, however, is unclear. UPM and Amusement did not return requests seeking price estimates. (In 2007, a magazine industry white on RFID put the cost at $20 per unit.)
RFID in U.S. Magazines

Talk of using RFID technology in American magazines has been around since at least 2007, when Mediamark Research and Intelligence, the research firm, began testing the use of RFID tags in waiting room settings to monitor engagement—detecting the openings and closings magazines, individually marked pages, etc.
At an American Magazine Conference panel  in 2007, executives from MRI and other research firms predicted embedding chips would be a reality in the not-so-distant future. "Tracking is starting to be about electronic measurement," said one panelist. "Soon, it will be about RFID tags—putting chips in every issue of every magazine."
While some publishers are said to be testing RFID, using the technology for editorial purposes has yet to happen.
But in France, at least, they appear to be bullish on RFID. "As the cost of RFID components has already come down significantly," Pierre Georget, CEO of GS1 France, told RFIDNews.com recently, "we see opportunities for totally new industry take-pffs based on innovative and value increasing services for the consumer."
Meet the Author
---