Magazine 'Like Tequila for the Mother's Soul'

Editorial review: Edgy Get Born definitely not your mother's magazine.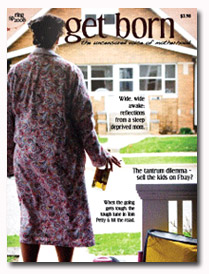 Embracing the post-Mother's Day spirit, I couldn't resist sharing this edgy literary magazine for mothers I stumbled upon.
Launched in the fall of 2006 and published quarterly, Get Born magazine's tagline is: "The uncensored voice of motherhood." Get Born was founded by two Colorado mothers who wanted to "celebrate the whole messy process of motherhood by giving real women in the real trenches of motherhood a chance to speak, to write, to make their voices heard," the magazine's Web
site
says.
According to its media kit, Get Born targets mothers aged 22 to 45 with children from infants to school-age. It has a 650 direct distribution circulation and claims a readership of 1,800.
"We're not chicken soup for the mother's soul," co-founder Heather Janssen said in a recent newspaper
story
. The magazine is "more like tequila for the mother's soul."
The stories told in Get Born definitely aren't your mother's—at least not the ones told on the glossy pages of magazines like Babytalk or Working Mother. Instead, these mothers dish about the pains of childbirth, sex, and finding "adult time" while trying to raise a child—at times told with profanity.
"In a lovely world, I would never not want to read to my kids," Janssen said in the newspaper story. "In my world—the real world—I just want a moment to myself … I don't love smearing peanut butter and jelly on bread day after day."
Meet the Author
---