Magazine Job Report 2008

State of the industry.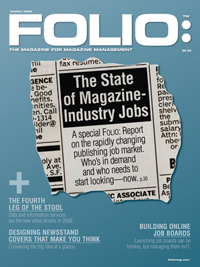 With today's struggling economy, magazine publishers are trying to do more with less while their businesses change dramatically—two facts that take their toll on those who work hard to keep these businesses running and thriving. But with these new frontiers that publishers are compelled to embark on come bright spots for those working in—or looking to enter—the industry. New jobs emerge, old jobs become fresh, and opportunities arise for individuals with unique talents and skills.
NOTE: CLICK HERE FOR THE PDF VERSION (INCLUDES CHARTS)
Here, FOLIO: takes a look at the current state of magazine-industry jobs—at hiring trends, compensation levels, new jobs emerging, the positions and skill sets in highest demand, the jobs becoming obsolete or changing most drastically, recruiting approaches, and everything related to the most vital resource a magazine business has—its staff. From hiring trends to salaries, and from advancement opportunities to the very real threat of outsourcing.
Hiring Forecast
Just as FOLIO: was putting it's March issue to bed, Time Inc. announced that it will cut around 100 jobs in the first quarter, affecting positions "across a variety of functions and geographic areas," according to a Time Inc. spokesperson.
It was another stark reminder of the precarious nature of magazine industry employment. In January, McGraw-Hill cut 3 percent of its workforce, or 611 jobs (observers say that move was due more to a volatile subprime market hitting its financial services business and a declining stock price than the performance of its information and media division. However, that's small comfort if you were one of the 611).
Despite the gloomy scenarios, job security was just the third largest job-related concern for respondents to a recent survey of FOLIO: readers conducted last month (for the methodology, see page 34), after a desire for more pay and the number one concern, an ever-increasing workload. While 81 percent of the respondents said they do not fear losing their job within the next year, 31 percent of respondents said their company was downsized in the past year. With rising costs and the threat of recession looming, publishers want to stay as lean as possible. Hiring is likely to be very selective going forward, with some departments that affect the bottom line, like circulation and production, losing staff while others, like sales and online jobs that bring in revenue, gain.
In the survey of FOLIO: readers, 53 percent said their company was doing the majority of their hiring in the online department, compared to 24 percent who identified print as receiving the most hires. Similarly, 88 percent of the respondents say their company is emphasizing online for growth, as opposed to 34 percent who said print was the main growth vehicle.
Eliot Kaplan, editorial talent director at Hearst, says it's a "great time to enter the industry," as job descriptions broaden and employees gain marketable experience well beyond the printed page. But the ability to do so may be getting tougher and tougher, as publishers look to spread the extra work around to current staff instead of new hires. "We're not adding a lot of bodies, we are doing all this with existing staff," says Kaplan. Even with print, "We try to get fewer people touching the page without affecting the quality and making it as good as or better than ever," Kaplan adds.
Hearst is not alone in this mentality. "It is more a matter of thinking about how to get things done versus bringing in more people," says Claudia Malley, publisher of National Geographic. However, this mindset affects some disciplines more than others.
"The jobs that are going away are in production," says Henry Donahue, Discover Media's CEO. "Now service providers are taking on services to differentiate themselves and you can shift lots of responsibilities from the production department to the vendor."
Donahue adds finance to the list of departments seeing contraction as companies look to cut overhead and cost. On the flip side, Donahue says he did a great deal of hiring in 2007 and expects it to continue in 2008—mostly in online and editorial. "It is mostly an investment in content creation," he says.
Dick Ryan, president and CEO of ZweigWhite, has a similar perspective: "We can't have enough editors, analysts and research associates on staff because we generate all our own content." But ZweigWhite is somewhat unique in that 80 percent of its revenue comes from subscription and research report sales. Only two out of the company's 75 employees are in advertising sales—a burgeoning field for lots of companies today.
National Geographic's Malley expects sales to be a hiring hot spot this year. She says she'd also love to hire a strategic marketing director to focus on creative solutions for clients that move beyond advertorials to be more like "complex units," with several components like wall maps and pull-out inserts. Ideally, she'd like to see this develop into something like a small agency within the department, organized by categories such as technology, electronics, imaging, and so on.
Gary Rubin, chief publishing officer of the Society for Human Resource Management, says his organization has added approximately eight positions to its Web staff alone. "Web is where the future is," he says, "and we need to be sure we are staffed appropriately." He expects to do even more Web hiring in 2008.
Sales and online project management are the top jobs to be filled at Interweave, a division of Aspire Media, according to Aaron Wilmot, the company's HR director.
Still, some are holding back in 2008, especially in light of economic concerns. "There's been a downturn in the construction market," says Ryan. "We will be cautious with respect to hiring at the same pace as last year at this time. We got in front of the curve and had to react as the market turned."
Sylvia Lewis, director of publications at the American Planning Association, says, "Planning keeps on pumping out more pages, but only once in the past seven years have we added more staff." She says the magazine will soon need more editorial help but doesn't expect to get funding for a full-time staffer and will probably outsource.
NewBay Media is focused on revenue people. "We're looking for individuals who can generate revenue and have diverse experience in multimedia," says CEO Steve Palm. "The person who will have a difficult time moving forward is just a print-seller or someone who can't handle multiple offerings and closes simultaneously. Those times are gone, although there are a lot of people who still haven't embraced online or events."
Palm says he's satisfied with the current levels of edit and IT staffers at his company and has no plans to expand in 2008. "We're pretty lean, everyone has a role. I do think less about positions and more about individuals. We're looking for people with a multimedia focus, who are able to handle a lot of different closes, a lot of different media types. If we find those people, the good news is they are able to do a lot of heavy lifting for us."
Business-to-business publisher Vance Publishing is focused on a digital push. "We have been expanding our hiring in the area of digital for the past 18 months and plan to continue," says president and COO Peggy Walker. "We are hiring Web developers, digital sales, e-product management and Web editors. Positions that are becoming obsolete are print-centric—whether in editorial, sales or audience development. The skills we are looking for include those inherent in the positions mentioned plus smart, agile, flexible, creative and entrepreneurial."
Enthusiast publisher Future US is adding to online and senior management. "We are actively recruiting. We're placing a job right now for an online person and we're looking outside the traditional circulation market for that role," says COO Tom Valentino. "The recent hiring we've done is in a senior capacity. We've hired an events director who in turn hired a couple more event people to extend that into a proper business. If you look through the list of jobs we're recruiting for, you're not seeing many in the traditional print area."
Hanley Wood is investing in digital, including $2 million in personnel and an additional $5 million in Cap Ex, even as CEO Frank Anton admits his company is getting "hammered" by the current downturn.
Endurance Business Media offers franchises—of its 360 magazines, 320 are franchises. As the franchises expand, the company is hiring several new people in each new market. But president and CEO F. Blair Schmidt-Fellner says he's expecting a challenging year with magazines in the real estate space, and is budgeting "just a couple hundred thousand dollars" for new hires in 2008.
"Like everyone else, we've grown a bunch with the Internet," says Schmidt-Fellner. "We have a full-blown consumer site, not just b-to-b. We focus on search engine optimization and things that may not be a b-to-b concern and that takes up some positions. We will hire fewer people in '08. We still have a couple Internet positions to fill, and we do a lot of it with consultants. We've been cutting way back on pre-press—we have close to 400 people at two printing plants, and we print millions and millions of these magazines, and every year there seems to be more systems that allow you to touch the paper less and be less involved in the actual production process."
Sales and marketing positions are the primary focus right now for consumer luxe publisher CurtCo. "We scaled up toward the end of last year," says group publisher David Arnold. "We're hopeful that if this year continues as it started, we'll be able to add a couple people, probably one on the marketing side and one in sales."
Euphemisms Or New Positions?
For the most part, no particular jobs are becoming obsolete—but dated job descriptions are.
During his keynote presentation at the FOLIO: Publishing Summit last month, Meredith Publishing's Jack Griffin said, "We don't hire editors anymore, we hire content strategists."
That comment spawned a wave of vehement protests at Foliomag.com, as many editors expressed their objection to what they perceived as a cheapening of the editorial role with a euphemism. Others think the debate over job titles misses the point. "Perhaps everybody here should focus more on delivering content that's exactly what the consumer demands rather than worry about what astute title you're assigned for your work," wrote one reader.
However, the fact is, job descriptions are changing and they reflect a multimedia approach. Former Time Out New York editor Brian Farnham recently resurfaced on LinkedIn, looking for possible candidates for a "production manager" position at his online news and information startup Polar News. The position seems to combine editorial, marketing and circulation responsibilities and the job description says, "This person will OWN a specific vertical in a new online news and information site—conception, development, execution, reporting, and measurement."
Last year, Government Computer News editorial director Wyatt Kash gave FOLIO: his wish list for new positions he'd like to see to help accelerate online growth, including online graphic designer, multimedia asset manager, metrics analyst, and community editor. "My sense is we're leaving new products on the table because we aren't seeing how it can be used," said Kash.
The pure-play ad salesperson is one of the most obvious changes. "Salespeople need to be much more creative," says National Geographic's Malley. "They're not just selling pages but programs."
In April 2007, Entrepreneur Media eliminated its print publisher position, replacing it with two new vice presidents of integrated sales. "We think the traditional publisher's role is kind of disappearing," president Neil Perlman said at the time.
PART II: Jobs Not Becoming Obsolete, But Some People Are
PART III: Digital Age Recruiting

Methodology
The survey sample of 12,270 was selected by FOLIO: from FOLIO:'s domestic circulation. Data was collected via an email survey from February 4 to February 7, 2008. The survey was closed for tabulation with 885 usable responses, a 7% response rate. Margin of error for percentages based on 885 usable responses is 3.2% at the 95% confidence level.
Meet the Author
---