Magazine Job Report 2008

Part III.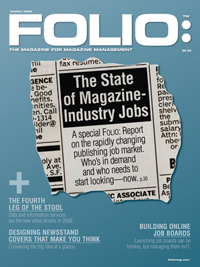 NOTE: CLICK HERE FOR THE PDF VERSION (INCLUDES CHARTS)
Digital Age Recruiting
Hiring the right people is a perennial challenge that's getting even more difficult. Some of the hardest jobs to fill now are the same ones that are highly in demand. "Mid-level sales people with the ability to sell across multiple platforms are still hard to find," says Pecover of Haymarket Media, though he says, "There seems to have been a minor glut of more experienced individuals coming onto the market in the past year, as other publishers—especially the venture capital and private equity-backed companies—scaled back their operations."
Rubin says finding good online talent, particularly for specialized jobs, is not easy—there's a lot of competition. Kaplan at Hearst agrees: "We're looking for people with three to five years of Web experience, people who stuck with the Internet through the bust. Strategic Web people are hard to find. They suffered back then but are in demand now."
To find new talent, publishers use conventional methods like job boards, though many seem to stay away from general search engines like Monster, opting for industry-specific resources like Mediabistro (and foliomag.com, of course). They also use their own companies' job listings. Russell at Texas Monthly says this is a particular benefit for the Emmis Communications-owned publication because it attracts a national audience through Emmis.
Craigslist is a deplorable resource, according to ZweigWhite's Ryan. "Resumes from Craigslist make my skin crawl. Some have worked out but many have been unmitigated disasters," he says. For entry level positions, however, he admits it can be useful, as people under the age of 30 are relying on social sites such as Craigslist and even Facebook and MySpace.
Many publishers continue to use recruiting resources at local universities to fill entry-level jobs. Twenty percent of Texas Monthly's staff consists of former interns, says Russell. "We use and train these interns and they move up the ranks." Another method Russell swears by is a hefty pool of applicants on file. "We actually keep them," she says of unsolicited or previously-rejected resumes.
Ryan says the tried-and-true method of employee and client networking and word of mouth bring in the company's best people. "If we have a job to fill and someone comes from our very large network, we're happy about that," he says.
"Employees are encouraged to actively network with others in the markets we serve," says Cindy Gorman, vice president, director of human resources at Meister Media.
At Discover, media recruiters are used only in very select cases, says Donahue, and mostly for ad sales. Rubin at SHRM says his association uses recruiters in very difficult cases or for senior-level positions.
Others cite more aggressive strategies, particularly for editorial. "We scan through our competition and read articles and if we think it's our style, we reach out to that person, even if we don't have anything. It's about fostering and building relationships. We don't give expectations we can't fulfill," says Wilmot of Interweave.
This type of poaching is common—startup Southern luxury magazine Garden and Gun was able to lure its editor-in-chief Sid Evans away from more than one century-old Field and Stream late last year through this type of gradual relationship building.
Ryan also suggests looking for talent in other industries, which can widen a company's knowledge base. His company recently hired a designer for its online training seminars who came from the academic world, where she was a director of instructional design for distance learning and online education, bringing valuable expertise with her.
Then, of course, there is internal movement, which works best in an environment that fosters development and recognizes talents. At Texas Monthly, an accounts payable employee became the magazine's copy chief when her strong language skills were noticed.
Outsourcing Is Now Reality
Publishers are often divided on the benefits and drawbacks of outsourcing. While it's common for magazines to employ freelance writers or designers, some do so much more than others. Some see outsourcing as a way to experiment, while others see it as an alternative to hiring.
The threat of outsourcing has lingered over certain publishing disciplines such as production and IT for a while now but it's been treated as a dirty little secret. Now publishers are openly admitting they're looking to outsource jobs abroad, and not offering any excuses for it.
Tom Fox, vice president of manufacturing and technology at American Express Publishing, says costs for Web development and technical staffing have been going up 15 to 17 percent a year. He also says there is a talent shortage in the U.S. "We're looking for people overseas because people with these capabilities are just not available," he adds. "The inability to offer these skills is a huge problem for our industry."
There are some strong indications that outsourcing is now being considered for some of the "talent" positions, including editorial. In last month's FOLIO:, Hanley Wood Business Media president Hanley Wood predicted at least one major b-to-b publisher will ship editorial overseas this year. "The most likely scenario is that one of the dozens of magazines that have launched overseas editions in Vietnam, China, India and elsewhere will ask their overseas staff to take over U.S.-focused beats," says Goldstone. "Once a publisher comes to understand that the work being done overseas is as good as what's done in the home office, it's inevitable that he'll move more work offshore."
In February, McGraw-Hill flagship magazine BusinessWeek farmed out its contract workers by reassigning them to a contract with Kelly Services. The move covered both editorial and production and rattled a staff already shaken by massive lay-offs. Meanwhile, many BusinessWeek online staffers who were under contract were converted into full-time employees.
Pink is planning to do more hiring in 2008 but also more outsourcing, especially as it explores new projects. "It's a way to eliminate risk and be conservative with new ventures," says Good. Pink currently employs freelance help mostly for writing and for the magazine's event series.
Fromberg of HFMA also says his association draws on freelance help for writing and special projects. "No matter how large a staff is, it's always stretched too thin. If you want to try something for the first time and see if it's worth pursuing, you need to face the reality that you may need to outsource."
One of the benefits of outsourcing online work, according to Howard Sholkin, director of communications and marketing at IDG, is that "once you get that knowledge from outside you can bring it in house."
Discover Media outsources most of its back-end technology for online, says Donahue. "For technology, you can partner, especially if you're a small publisher. If you're very large, it may make sense to invest in proprietary technology."
Rubin at SHRM says his association uses freelance help for specialized and short-term Web projects, like programming or collecting video. "If we are hiring someone to do a job, we are confident that the position will be around for a long time," he says.
But when short-term projects begin recurring, Texas Monthly's Russell says it's time to consider hiring: "If you work with a designer on several marketing projects, for example, and those projects repeat themselves, you may get a better ROI by hiring that person as an employee."
Marketing is an area where National Geographic's Malley says it's often better to use in-house resources—"to get a consistent look and feel," she says. But, as the volume of work increases, Malley expects to have to outsource more of the work until a hire is possible.
ZweigWhite doesn't outsource much other than its tech help desk, according to Ryan. "It's hard to convince freelancers they have as much at stake," he says. With respect to digital technology, he says, "Publishers who think it's better to outsource all Web stuff may be making a big mistake in the long run."
Salary Trends
When it comes to compensation, the most in-demand jobs naturally seem to pay the most. According to the 2006 Annual Survey of Journalism and Mass Communications Graduates conducted by the University of Georgia's James M. Cox Jr. Center, online media paid higher salaries than any other media, at an average of $31,500. Specialized information providers were close behind with an average of $31,000, while consumer magazines averaged $28,000.
Many publishers are paying online staffers more money than their print staffers with similar job titles. "If you compare it to a more senior level print editor, the salaries are comparable," says George Fox, president of Advantage Business Media. "But a lot of these folks tend to be younger than print editors and they're coming in at a point where if you consider a normal starting salary for a print editor, it's 40 percent to 50 percent higher."
Rubin also says he's seeing inflation in Web and IT jobs, due to the age-old rule of supply and demand. "Over time, I would expect more people will be qualified. I don't think there will be a bubble burst with lots of technology people without jobs, there won't necessarily be wage deflation, but the curve of increase will decline." He says outside of these areas, most salaries are generally going up at a normal rate of two to five percent a year.
Debbie Winders, vice president of circulation at Computerworld, is also seeing higher salaries for online-related jobs but at a less steep curve. She says somewhat different skills are required for e-media and publishers are willing to pay "a little more" for those skills.
However, according to the FOLIO: Job Satisfaction Survey published last fall, events staff and e-media—two of the hottest growth areas in publishing—are the least pleased with their level of compensation.
According to Discover Media's Donahue, demand also outstrips supply in integrated marketing and ad sales, where he says salaries are going up. That's not the case with other categories, however. In editorial, he says, "There are still so many people who want those jobs, there's not much of an increase."
Ryan sees an opposite trend at ZweigWhite. "If an editor has good business acumen, he can do well. Anyone producing proprietary content is making more," he says, because many editors at his company work on projects that aren't ad-supported. "They are our revenue generators."
This seems to be atypical for most magazines. "The reality is that people in our industry in editorial and art tend to be paid less. I'm frustrated that I can't give bigger raises," says Good, who also cites another trend she sees—that new hires are expected to take on more responsibilities than their predecessors for little difference in compensation.
Kaplan has a slightly different perspective. "In the six to eight years since I've been here, visual jobs have gone up. Salaries have gone up at a considerably faster rate for art directors, photography directors, stylists—the ones who make the page look good—than with text-driven positions."
While many publishers are dangling incentives to get salespeople to pay more attention to pushing digital products (a lingering problem, especially for small and mid-sized publishers since commissions from print still remain much larger), some publishers are wondering why there isn't any additional compensation for editors juggling print and online (and events) as well. "I don't understand how you can pay salespeople more to work in multimedia but not editors," says Teri Mollison, manufacturing group publisher at Penton Media.
At Wenner Media, circulation director Michael Sheehy says salaries are skyrocketing in his department. "Everyone knows recruiting and retaining people is elemental to success. Guess what—so is getting rid of people that don't make the grade. The result is higher payroll. I hate spending more money, but it's one of the best investments we make."
PART I: Hiring Forecast
PART II: Jobs Not Becoming Obsolete, But Some People Are

Methodology
The
survey sample of 12,270 was selected by FOLIO: from FOLIO:'s domestic
circulation. Data was collected via an email survey from February 4 to
February 7, 2008. The survey was closed for tabulation with 885 usable
responses, a 7% response rate. Margin of error for percentages based on
885 usable responses is 3.2% at the 95% confidence level.
Meet the Author
---