The Magazine Industry's Most Important Legislative Issues for 2008

What the MPA and ABM will be lobbying for on Capitol Hill.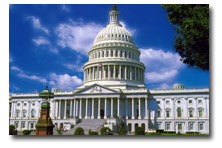 With the U.S. Presidential elections just 11 months away, the political lineup on Capitol Hill is sure to make for a tricky climate for a number of lobbying groups, including those charged with representing the magazine industry. But despite the inevitable challenges, groups like the Magazine Publishers of America and American Business Media plan to carry the torch for a number of important issues in 2008.
"We hope and anticipate that the Free Flow (shield) legislation, which provides federal protection for reporters' confidential courses, will be approved by the Senate early in the year, and be sent to the President for his signature," wrote Rita Cohen, MPA's senior vice president of legislative and regulatory policy, in an e-mail to FOLIO:. "We have been very active supporters of this legislation and will continue to push to get it across the finish line."
ABM's Information Policy Committee plans also to lobby for shield laws and freedom of information next year. Another important issue it will tackle is net neutrality. The idea is that broadband service providers should not be permitted to discriminate against smaller media companies, or burden or interfere with content providers based on the content's source, ownership or destination. "It's one of the things we'll be discussing because we are try to be protective of our smaller publishing interests and net neutrality seems to be one of these things where you have the larger IT service providers who are in control of the flow of information across the Internet and small companies are leary of what could possibly happen," says Joshua Kuvin, ABM's CTO and IPC spokesperson.
Some smaller media companies fear increased costs, limited file transfer sizes and a "shrinking of the pipeline" dependent on costs, he says. "It's something that's been on the FCC's mind for a while but has not come up with any regulation on it yet. It is something that we will be following closely in 2008."
IP legislation will be another important magazine industry topic in 2008 for the MPA. "The IP legislation being considered would toughen current copyright laws and provide law enforcement with additional resources and capabilities to better combat copyright violations, although the House and Senate versions differ in their approach to accomplishing this objective," Cohen wrote. "The privacy legislation that has been introduced would require a 'privacy impact assessment' to be done for every federal rule, assessing the impact of the proposed rule on individuals' privacy, a provision that is of potential concern to us. The Federal Trade Commission's activity with regard to 'behavioral tracking' of online activity is something we will continue to monitor as well."
Online advertising privacy—especially after Facebook ceased its online tracking program earlier this year—will be an important issue for ABM's Information Policy Committee, too. "What was taken away from the Facebook issue was that although they were able to accomplish increased revenue or targeted marketing, they crushed the brand with the consumer base because people didn't want it or trust it," says Kuvin. "It's something that we're tuned into. Our members want to keep their brand and not mess with their consumer bases."
Meet the Author
---