Macworld Launches Redesigned Web Site

First in four years.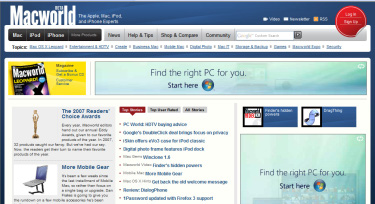 Macworld this week officially relaunched its Web site, macworld.com, marking the site's first significant redesign in nearly four years.
In addition to a fresh look, the site includes improved navigation tools, including the top navigation bar which has been broken into four main product entry points for Mac, iPod, iPhone and More Products. The Topic Centers section allows users to find specific content, and new tabs steer them to news shopping and tips.
Macworld's online design team took a new approach in that it launched the site in beta three weeks ago and encouraged visitors to submit impressions and recommendations for improvement. According to Macworld vice president and editorial director Jason Snell, the goal of this redesign was to "improve upon the existing site and to give readers numerous options for navigating to the content that interests them the most."
The new site also features video podcasts and an expanded online community functions. The redesign was executed by an in-house creative team that was headed by Macworld Web design director Jason Brightman.
Meet the Author
---