M. Scott Havens Tapped as President of The Atlantic

Responsibilities shift from corporate digital oversight to brand leadership.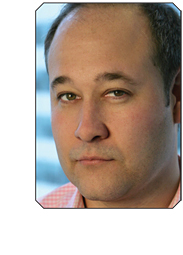 The Atlantic has named M. Scott Havens as president effective today. The move puts a dedicated executive into the top spot for the  brand and allows Justin Smith, who has held the dual role of president of Atlantic Media Company and The Atlantic, to shift solely to corporate oversight.
The move also signals a continued emphasis on digital strategies for The Atlantic. Havens joined the brand in 2009 as its vice president of digital strategy and operations and then was promoted to senior vice president of finance and digital operations for the entire company.
Havens' new position pulls him out of a corporate role and lets him focus on the brand specifically. "Scott is the right person at the right time to take the helm of The Atlantic, our company's flagship brand," says Smith in a statement. "For the past few years he has been Atlantic Media's digital business brain, implementing a 'digital-first' strategy within each of our companies."
Havens, who was named to the 2012 Folio: 40, is taking over the brand during a time of growth. The Atlantic turned the corner at the end of 2010 to make its first profit, following that with a second profitable year in 2011.
The company, which includes The Atlantic, Government Executive and National Journal groups, and on Monday launched its long-awaited business news site Quartz, says revenues and profits for The Atlantic are tracking ahead for this year as well.
Michael Finnegan, director of business development and analytics digital, will take over Havens' previous financial responsibilities as vice president of finance and analytics.
And in another executive move, Zazie Lucke is moving from The Atlantic's New York offices to the company's Washington D.C. headquarters to become vice president of marketing and strategic partnerships. She was previously associate publisher for marketing at The Atlantic. In her new role, Lucke will turn sales and marketing into a corporate endeavor, building the company's first sales and marketing team and strategic outline that will be applied company-wide. She'll also develop and market the corporate brand.
Meet the Author
---