M&A's Hottest Sector: Traditional Media Buying Interactive Media

With online driving growth, publishers are buying Web talent.
For the first time in three or four years, there hasn't been a blockbuster magazine-company deal in 2008, at least not yet. In fact, the magazine-industry M&A environment is becalmed. Last year there were 24 b-to-b magazine deals in the first half. This year? 11.
So where's the action? Interactive media. The buying and selling of all kinds of e-media companies is hot—from pureplay content sites to lead-gen services, marketing services, ad networks and software solutions like search and CMS platforms.
And who's doing a lot of the buying? In many cases, it's traditional media companies, including magazine companies. Consider some of the deals from this year alone:
• Modern Luxury Media, a publisher of city magazines like the upcoming Manhattan, last month acquired online luxury and lifestyle brand Juli B.
• Paidcontent.org sold to Guardian News & Media for an estimated $30 million in July.
• Fierce Markets, an e-newsletter company, was sold to Questex Media in January.
• The Web site Answerology was sold to Hearst Magazines, also in January.
• Last August, the eco-blog TreeHugger was acquired by Discovery Communications, parent company of the Discovery Channel, The Science Channel, Animal Planet, and several other properties.
• Also that month, Hearst Corp. acquired the social shopping site Kaboodle.
• In January 2007, New Media Strategies, an interactive word-of-mouth marketing agency, and Genex, an interactive marketing services firm that specializes in online customer relationship marketing, were acquired by Meredith.
And these deals obviously leave out the stratospheric transactions like Google's acquisition of DoubleClick for $3.1 billion and Microsoft's acquisition of aQuantive for $6 billion. There's a media transformation occurring as traditional publishers (and broadcasters) in both b-to-b and b-to-c aggressively acquire expertise in digital media. At Hearst Digital Media, for example, which has made a string of interactive acquisitions in the last two years, online traffic is soaring. Overall digital media traffic—which includes the company's magazine Web sites along with sites like e-spin and Kaboodle, increased from 5.5 million unique visitors in June 2007 to 12.5 million in June 2008.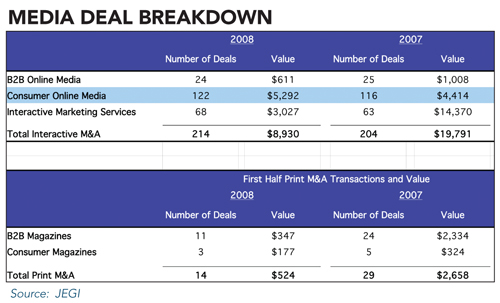 "Digital media is a growth area," says Chuck Cordray, general manager of Hearst Digital Media. "There are several specific reasons. One is to add capability and strength to our online magazine network. When Hearst goes to market, roughly 80 percent of the ad sales are bought across the network. So we've grown our magazine brands very significantly, but we have also added to the scale of our network. Roughly 55 percent to 60 percent of traffic to the network is from our pure-play digital sites."
And Hearst is just one of a growing number of active buyers. Consider the bullishness of the deal brokers. "PE folks have shifted their focus to businesses that are heavily interactive and are either interactive content, enabling technology, or marketing services," says Jeff Reinhardt, a managing director at Berkery Noyes. "If customers are shifting their budgets to interactive or marketing services, then publishers need to offer those services too."
In the DeSilva + Phillips M&A Report 2008, the authors say: "The year 2007 was a year marked by an explosion of acquisitions of digital media properties by traditional media companies. We expect such purchases to continue in 2008—indeed, to accelerate."
Similarly, in an April 2008 report called The State of Interactive M&A, the Jordan, Edmiston Group said this:
"M&A for the media and information industries reached record highs in 2007. Interactive M&A, which includes Consumer Online Media, B-to-B Online Media and Interactive Marketing Services, led all media market sectors in 2007, with 450 transactions valued at $30 billion, up more than 160 percent in total value over 2006."
Retooling Business Models
Even though the pace of deals has slowed from 2007, most analysts don't see the broader trend slowing. "It speaks to how serious diversified media companies are in trying to retool their models," says Tolman Geffs, a managing director at the Jordan, Edmiston Group. "It is very clear that interactive media is both effective and scalable, and even two years ago, there wasn't a strong sense of both of those. People thought it worked, but that maybe it wasn't scalable. Now the sense is they have to grab these faster-growing models in order to sustain and drive growth for their overall portfolio."
"I heard an interesting stat that 30 percent of all the content consumed today is consumed online," says Jeff Dearth, a partner at DeSilva + Phillips. "And yet, only 6 percent of ad spending is online. There is still a lot of growth left. There is major interest, and it is driven by where the money is going and where the eyeballs are going. And that's why traditional media has a lot of interest in the digital media side."
Adds Geffs: "A lot of this is driven by the interest in ad networks and ad targeting. This is needed because the biggest impediment in the growth of interactive advertising now is that it is inefficient and messy. The labor necessary to manage interactive and video campaigns is still harder than it should be, and the targeting is less precise than it should be. Anything that brings both reach and precision and greater efficiency to running interactive ad campaigns is going to be an attractive area."
Most observers, however, suggest that the focus is on social media. "Social networks are the hottest category," says John Doyle, managing director at Peachtree Media Advisors Inc. "Those are the businesses that are being purchased at the nice high multiples."
Another hot sector, Doyle says, is niche-consumer pure-play online media companies, a trend seemingly borne out by the acquisitions by Hearst, Modern Luxury and others. Also big are peer-to-peer review sites like Yelp.com, which make a distinction between more formal reviews and comments tagged to the bottom of a story. Not hot, Doyle says, are performance-based marketing and lead-generation sites on the consumer side. "With the incentivized marketing sites that have the, 'Sign-up-here-and-get-a-free-iPod' approach, the traffic is not organic and it's not viral."
But for Dearth, one interesting aspect is that there is no single hot area. "Everyone is taking a different approach," he says. "You have a Cox buying an Adify, which is a create-your-own-ad-network company. Think of [online fashion network] Glam, or the ability to create new Glams? That's what Adify is." And then, he adds, Conde Nast is looking at up-and-coming things in the luxury market, and Modern Luxury, the lux regional-magazine company, bought Juli B., the luxury-market lifestyle site. "Some companies might be looking to deploy social networking across all their properties," Dearth says. "That's the interesting thing. It could be mobile applications or technologies around that. It could be an ad network that makes sense around a certain vertical."
Assessing What Drives Value
Valuations for interactive-media properties are as a rule higher than for traditional media. If traditional media trades this year at six- to 10-times EBITDA and one-plus-times revenue, interactive media typically trades at 10- to 15-times EBITDA and three- to five-times revenue, Dearth says. "Values are based on forward-looking EBITDA and how confident a buyer can be in the growth rate," says JEGI's Geffs. "The most important thing is the revenue growth rate. The second is increasing revenue margins. An incremental-margin story is really important."
Meet the Author
---