Loyalty Shown the Door

Longtime CQ editor fired after questioning merger-related layoffs.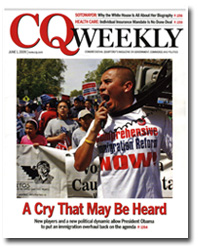 Brian Nutting showed his loyalty to the wrong group of people—or at least that's what his bosses thought.
Following the round of 44 layoffs at the CQ-Roll Call Group—associated with parent company the Economist Group's merger of recently-acquired Congressional Quarterly and Roll Call—the 27-year CQ editor sent an e-mail to CQ-Roll Call Group executive vice president and managing director Laurie Battaglia, editorial director Mike Mills and the entire newsroom, demanding an explanation from top brass in regard to the cuts.
"We were told that the people in the company were highly valued," Nutting wrote. "And now this."
That e-mail, or apparently not showing remorse for writing it, landed him a pink slip. In a memo to staffers Tuesday, posted by Mediabistro's FishbowlDC, Mills wrote that Nutting had left the company "effective today."
That same day, Nutting told Politico's Michael Calderone, who has covered the acquisition and subsequent merger extensively, that he was fired for "insubordination." "I guess I was given one last chance to say I was sorry, that I'd done something impulsive, and I apologize," he told Calderone, indicating that he refused to apologize. "I didn't feel like I could turn my back on the people I worked with," he said.
It's a tough time in magazine publishing right now, and I'm sure there are A LOT of people in the industry who aren't, and won't, speak up about management missteps for fear of losing their jobs. Don't get me wrong, though—I'm not saying that the CQ-Roll Call Group layoffs were necessarily the result of mismanagement.
What I am saying is that this isn't the first time we've seen a passionate editor stand up for what he/she believes—even with their job on the line. And I hope it isn't the last.
Meet the Author
---