Look Grandma! No Cover Lines!

Designers from Rolling Stone to Eldr revert to minimalism.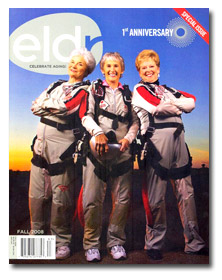 Magazine cover design is cyclical. When every magazine is trying to be innovative—be it E-ink or loaded with cover lines and type, as Esquire has done—there's always an urge to move in the opposite direction. The latest (but not new) trend in cover design? Minimalism. Specifically, no cover lines.
It's a route normally reserved for political figures or prominent global personalities. Time magazine's famous 1993 cover shot of Bill Clinton might be the most prominent example, but Rolling Stone has also dabbled in the art of no cover lines with its July Obama cover and its iconic 1981 Lennon-Ono cover.
Eldr, the magazine that "celebrates aging," recently published its one year anniversary issue touting "no cover lines."
After experimenting with a number of cover line combinations, Eldr editor in chief Dave Bunnell decided to "throw caution to the wind and let the photo—of three female skydivers aged 78, 73, and 70—stand on its own. Readers I tested this on all loved it and a couple even said it 'provoked' them to open the magazine," he wrote in an email to FOLIO:.
But wait. The Eldr cover actually does have cover lines, however unobtrusive. Bunnell wrote that they "add some punch."
For magazines dependent on newsstand revenue, of course, going "nude"—without any discernable points of entry—isn't always a viable option.
"Newsstand to us is a very minor part of our circulation strategy," Bunnell wrote. "So I decided it was worth the risk."
Meet the Author
---