Long Live Magazines

Dying print magazine wishes the industry well.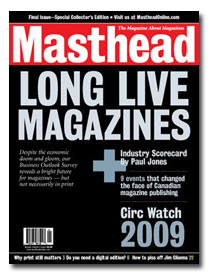 Sort of an ironic cover.
Masthead, a magazine that for more than two decades covered the Canadian magazine industry, said this fall the November/December issue would be its last (as of last month, the Web site will continue).  The big cover line for the final, collector's edition?
Long Live Magazines.
It's sad that Masthead, like so many other magazines, is closing down its print edition to exist only online. Although difficult, we see though that launching and publishing a print magazine, despite precipitously declining ad revenues, for some, isn't as crazy as it might seem right now.
Meet the Author
---