Lions and Tigers and—Ellie Nominations

Audubon is up against tough competition for the general excellence nod.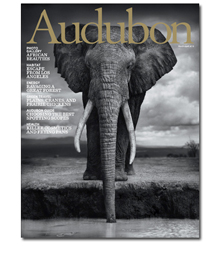 As the official magazine for an association that is charged with conserving and restoring natural ecosystems, Audubon is no stranger to the concept of surviving in the wild. This year, though, the magazine finds itself in a different kind of jungle.
The American Society of Magazine Editors has nominated Audubon for a general excellence Ellie award in the 250,000 to 500,000 circ. category. The title is up against some perennial consumer winners in the category—namely New York, Texas Monthly, W and The Atlantic.
But don't count Audubon out. The magazine also is well acquainted with winning (just not in a long time). Over the years, Audubon has been an Ellie finalist 15 times and has won twice—the last time in 1981 for general excellence.
Here, FOLIO: spoke with Audubon top editor David Seideman about the award, what kinds of pets he owns and what it takes to manage the edit operation of an association magazine during a tough economic period.
FOLIO:: Audubon is nominated for several issues. Why did you submit those particular issues?
Seideman: We like to give our readers different kinds of stories to read, but like lots of magazines these days, we can never get everything we want into our issues. So it's not surprising that the three issues we chose were our three biggest of the year, because more pages meant we could offer more variety.
In March-April we had a pure nature story on the amazing way that the thousands of birds in a single flock can make lightning-fast, synchronized movements. But we also had a travel story on an eco-lodge in Honduras where there's amazing birding, and a policy pullout on something called feed-in tariffs that, even though not many people have even heard of them, they have a lot of promise as a way to fight global warming.
In September-October, we took a broad, and somewhat unusual, approach to green design. We of course wrote about the neat stuff—green ballparks, living roofs, renewable energy—that readers expect in an issue like this. But we also, for instance, did a photo essay that shows how some of today's most innovative technologies were inspired by natural phenomena.
November-December had stories on birding in Israel, a terrible prairie-dog poisoning project going on in Kansas, and an innovative bird-conservation collaboration between farmers and scientists in Vermont.
FOLIO:: What one story among them stands out most to you? Why?
Seideman: It's hard to pick out a single outstanding story. One, though, we especially liked was a piece by Mike Tidwell that makes the connection between our meat-intensive diet and global warming. Mike calculated that, one way or another, nearly 20 percent of the world's greenhouse gases come from raising livestock. This story opened a lot of eyes, even at Audubon. It also created a lot of buzz in general. At one point, we Googled it and found almost a thousand Internet reprints of the story and blog posts about it.
FOLIO:: What challenges, if any, do you face as the editor of an association magazine that your consumer counterparts do not? What are some advantages?
Seideman: The challenges are, of course, budgetary. We lack the resources of many of our big-time competitors who devote immense resources to stories and photography, though we manage to work with writers and photographers on assignment from Antarctica to Lebanon. If there's great nature and wildlife story, we want it. At the same time because we are mission driven, we are not as beholden to our bottom line. We can do stories that inspire people to take action. But usually the whole package is a winning formula for our readers who want to make a difference in the world.
FOLIO:: Audubon is up against some major players in its circ. category. So, does Audubon really have what it takes to knock down one of these titles and go home with the general excellence honor this year?
Seideman: Our staff is really humbled to be in such esteemed company as these publications. We have all read New York and the Atlantic which are the gold standard in our industry. And as an ASME judge for the past decade, I've enjoyed Texas Monthly's finest work. I can't say I read W, being a scruffy conservation editor with frayed pants' cuffs, but I know of its stellar reputation.
FOLIO:: In terms of advertising, Audubon had a fair 2009 with ad pages slipping 5.2 percent (according to PIB). Newsstand sales, meanwhile, dropped more than 20 percent and overall circ fell nearly five percent (according to ABC). How is 2010 shaping up so far?
Seideman: Yes, I'd say fair, too. Isn't the industry average for ad declines over 20 percent? We do not have a big newsstand effort because it's such a ruthless business and our resources are finite. As for circulation, because we work for a nonprofit that combines circulation with membership and donor functions, there's been a focus on getting more out of fewer people. But lately there's been a concerted effort to rebuild our circulation. For our upcoming issue we're overdelivering on our rate base by 25,000. And we're putting in place a plan to grow our circulation from its current 400,000 level to 500,000 over the next five years.
FOLIO:: Being the top editor of a magazine like Audubon, I have to ask: What pets do you have?
Seideman: Great question. Right now my family has a one-year old black lab/pointer/houndish dog named Russell who's super sweet. We also have two gerbils who just gave birth 12 babies over the past two weeks, two cats (one and 20-years-old), two lizards, a frog, and many fish. Quite the menagerie. I can't imagine possibly having any more beings.
FOLIO:: What's your ideal day out in nature?
Seideman: A long, romantic hike out west, possibly in an ancient forest in Oregon, Washington, Canadian Rockies where the water is as clear as glass, the air as pure as pure can be, and the trees are wider than a man is tall.
FOLIO:: So, how might you react is Audubon wins? Are you perfecting an animal call of joy?
Seideman: I've learned never to count my chickens before they hatch.
Meet the Author
---